Star Wars: Galaxy's Edge: New Book Could Hint At Future Events For The Disney Theme Park Land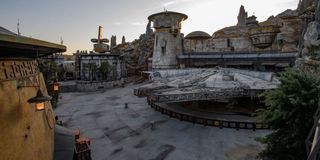 CinemaBlend participates in affiliate programs with various companies. We may earn a commission when you click on or make purchases via links.
If you're a Star Wars fan, then there probably isn't much convincing required to get you to check out Star Wars: Galaxy's Edge at either Disneyland or Walt Disney World. Right now, the only deterrent is that one of those parks is closed and the other is a bit more complicated than usual to get to and get inside of. However, the Disney Parks are always looking for ways to not only bring in new guests, but bring the old guests back again, and a new book all about Star Wars: Galaxy's Edge may have revealed some of the plans to get you to make another trip to Batuu.
Star Wars: Galaxy's Edge - Traveler's Guide to Batuu is a new book, out today, from Disney, Lucasfilm and Becker & Meyer Books! all about the newest addition to Disneyland and Walt Disney World. The catch here is that the book is written as an in-universe travel book by the fictional author Eloc Throno. He's basically the Rick Steves of the galaxy far, far, away. but instead of telling you about the not to miss places in Europe, we're talking about alien worlds.
What's most fun about the book is that it ultimately has two purposes, and it works very well at both. As an actual travel book, it's completely functional. .If you're planning a Disney vacation in the coming months, you could do worse than to pick up Traveler's Guide to Batuu. It will tell you about the various locations, though it treats the attractions as actual places. It describes the food and drink available, as well as the merchandise which can be purchased. This is all perfectly useful information to a human visiting Disney for the first time, just as it would be somebody from Naboo going to Batuu for the first time.
Even if you have no immediate plans to visit Galaxy's Edge, there's still some fun to be had with the Traveler's Guide. Batuu has popped up in a number of Star Wars books in the last couple of years and you'll find references to the events of Timothy Zahn's Thrawn: Alliances and Delia S. Dawson's Black Spire among others. It does help Galaxy's Edge feel like a real living and breathing part of the Star Wars universe.
Black Spire Day
But what might be most exciting about the Traveler's Guide to Batuu might be what it hints at that we have yet to actually experience in the theme park land. This primarily takes the form of three "local holidays" that are celebrated on Batuu. The first is Black Spire Day. This holiday celebrates the founding of Black Spire Outpost the main location at Galaxy's Edge, and the date of Black Spire Day is...May the fourth. Yes, the unofficial Star Wars holiday in the real world is now an actual holiday in the Star Wars universe as well.
This makes some sense of course. You know Star Wars fans are going to flood into Galaxy's Edge on May the Fourth just because they can, so they might as well make that part of the story. But if Black Spire Day is a holiday on Batuu, one assumes that land will actually do something on that date. Of course, both Disneyland and Walt Disney World were closed on May 4 this year, so whatever might have been planned is now on hold until next year.
Batuuan Harvest Festival
But that's not all, Traveler's Guide to Batuu also reveals that Batuu has its own Harvest Festival. A unique natural resource called golden lichen grows on Batuu and while it is so valuable that local crime boss and cantina owner Oga Garra often hoards it, during the Harvest Festival she apparently uses it in social drinks and dishes. Black Spire Outpost gets adorned in golden decorations and the citizens of the outpost use gold in their clothing as well
Seasonal decorations? Unique food and drink only available at a certain time of year? Sounds like a Disney Park festival to me. While there's no specific date given for the Batuuan Harvest Festival I would guess that if we actually see this celebrated in the parks, it will coincide with Halloween festivities. Halloween is one of the most popular times at Disneyland and Walt Disney World and with the rest of the parks being done up in decorations, this way Galaxy's Edge gets to be included without breaking the illusion that you're actually inside the Star Wars Universe and not inside a Disney Park.
Life Day
In a similar vein, it turns out that Batuu celebrates the most infamous of Star Wars holidays, Life Day. Life Day was the Star Wars stand-in for Christmas in the 1978 Star Wars Holiday Special which has become one of the most joked about pieces of Star Wars media ever. It is specifically a Wookie holiday, and while Chewbacca is the only Wookie to ber found on Batuu these days, it seems that Black Spire Outpost has embraced the holiday in its own way.
I remember this past holiday season seeing people wondering if Star Wars: Galaxy's Edge might embrace Life Day or some other surrogate events so that the land could get in on Christmas festivities in the park, and while that largely didn't happen this past year, Walt Disney World had only just opened its second attraction in the land in December and Disneyland didn't see that until early 2020, so it's possible the feeling was the land just wasn't ready for a Life Day event yet. If Batuu does celebrate Life day as The Traveler's Guide to Batuu states, then perhaps we will see this in the future.
If these events are being planned for the future of Galaxy's Edge, there's still a possibility we could see the Harvest Festival or Life Day celebrations take place in the parks this year. Although, it seems more likely these plans could be pushed off until at least 2021, as the parks have a lot going on right now as they are just reopening. We know that Halloween events like Mickey's Not So Scary Halloween Party have been canceled for the year and the jury is still out on what will happen with Christmas festivities.
These three local holidays are given their own section in Traveler's Guide To Batuu, so it feels unlikely these are just random references. Everything else in the book has a purpose and a direct connection to Galaxy's Edge itself, so don't be shocked to see these holidays become part of Galaxy's Edge on a regular basis, eventually.
CinemaBlend's resident theme park junkie and amateur Disney historian. Armchair Imagineer. Epcot Stan. Future Club 33 Member.
Your Daily Blend of Entertainment News
Thank you for signing up to CinemaBlend. You will receive a verification email shortly.
There was a problem. Please refresh the page and try again.