Solo: A Star Wars Story Writer Tried To Include More References To The Infamous Holiday Special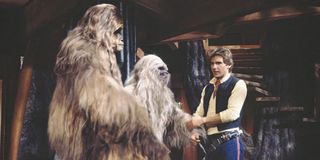 As is the case with most franchises, Star Wars has had its ups and downs over the years, and one of the lowest downs came just a year after the very first Star Wars movie, A New Hope, was released. The televised Star Wars Holiday Special was critically derided, it's never been rebroadcast or released on home media. That said, some things from the special have since been included in other corners of official Star Wars canon.
In fact, Solo: A Star Wars Story co-writer Jon Kasdan did his best to include more references to the Star Wars Holiday Special, though in the end only managed to sneak one in.
Since Chewbacca's dialogue is never subtitled in the Star Wars movies, you wouldn't catch the Star Wars Holiday Special reference when watching Solo: A Star Wars Story, but looking at the script excerpt shared on Twitter, we see that Chewbacca introduces himself to Han as the son of Attichitcuk. Chewbacca's father, nicknamed Itchy, appeared in the Star Wars Holiday Special, but ever since Disney obtained the Star Wars franchise, that particular story's been deemed non-canon, which is understandable.
So this mention of Attichitcuk in the Solo: A Star Wars Story script incorporates him into the official Star Wars canon, though whether we'll ever meet him is unclear. George Lucas was planning on having a "reinvented" Attichitcuk appear in Revenge of the Sith, but that idea was eventually scrapped. Who knows, though, maybe Attichitcuk could appear later down the line in a printed page Star Wars tale.
Although Solo: A Star Wars Story ended with several lingering plot threads, such as Han and Chewbacca's first encounter with Jabba the Hutt and Qi'ra working more closely with Darth Maul, the movie's commercial performance makes it unlikely that a sequel will be made. That hasn't stopped people from advocating for Solo 2, but following the release of The Rise of Skywalker this December, the cinematic side of the Star Wars universe will continue with the David Benioff and D.B. Weiss-overseen trilogy from 2022-2026.
However, that doesn't mean the Solo corner of the Star Wars universe couldn't be explored again. Along with novels and comic books remaining an option, Disney+ also provides a new on-screen avenue for telling more stories. The Mandalorian will debut in November and the Cassian Andor series will follow a year or two later, so perhaps we could get a third live action Star Wars series centered around Qi'ra, Enfys Nest or even Alden Ehrenreich's version of Han.
One thing I don't expect to be included on Disney+ is the Star Wars Holiday Special. Lucasfilm may be okay with elements from it being incorporated into canon (Boba Fett being the most notable example), but there's no indication it or Disney wants eyes on the special itself ever again. But hey, maybe I'll be proven wrong.
Stay tuned to CinemaBlend for more updates on the Star Wars franchise, which will continue on the big screen when The Rise of Skywalker arrives on December 20.
Connoisseur of Marvel, DC, Star Wars, John Wick, MonsterVerse and Doctor Who lore. He's aware he looks like Harry Potter and Clark Kent.
Your Daily Blend of Entertainment News
Thank you for signing up to CinemaBlend. You will receive a verification email shortly.
There was a problem. Please refresh the page and try again.