Justice League Mortal Star Explains Why The Movie's Cancellation Is Still So Upsetting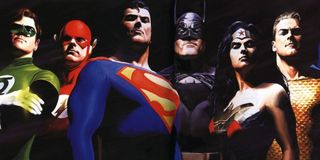 Most DC fans are aware of Zack Snyder's Justice League, a.k.a. the Snyder Cut, that's currently underway and headed to HBO Max, but some may not know that Warner Bros. had previously tried to put together a Justice League movie back in 2007 called Justice League: Mortal, with George Miller at the helm. At the time, its cancellation was upsetting, and now one of the stars is explaining why.
While speaking with the Toronto Sun about his horror film Random Acts of Violence, Jay Baruchel, known for voicing Hiccup in How to Train Your Dragon, shed a little more light on Justice League: Mortal, saying it had a great script that included a pretty heavy story. But Baruchel, who would have played lead villain Maxwell Lord in Mortal, also provided details about why it being dropped was so tough. When asked if fans will learn more about what could have been, here's what he said:
Wow, it sounds like Jay Baruchel was handed a huge opportunity before having it stripped away from him. It makes perfect sense why that would give him a lump in his throat thinking about it. On top of that, an epic-sounding Justice League movie, directed by George Miller no less, was scrapped right as they were diving in headfirst. That's a double whammy.
Jay Baruchel isn't alone in how he feels about the way Justice League: Mortal went down. Adam Brody, who recently appeared in Shazam! as the superhero version of Freddy Freeman, was supposed to play The Flash in Justice League: Mortal. He said "it still hurts," and that the script was really good and the movie would've been a classic.
The way George Miller previously explained it, Justice League: Mortal derailed due to financial reasons. To make matters worse, there was a Writer's Guild of America strike that delayed the production. It continued to see delays until WB finally canceled the project to focus on other movies, like Green Lantern.
It's easy to wonder "what could have been" on this project. George Miller is a visionary filmmaker, full stop. I have little doubt he would have made this a movie to remember. Since Zack Snyder is getting to do his own version of Justice League, is it too much, too soon to ask George Miller to finish what he started as well?
Your Daily Blend of Entertainment News