Halle Berry Looks Badass As An MMA Fighter In Her First Directing Project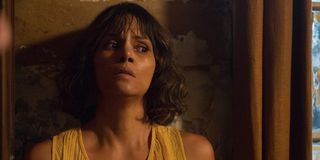 Halle Berry is no stranger to being a badass on the big screen. From her recent appearance as Sofia in John Wick: Chapter 3-Parabellum to playing Storm in the X-Men trilogy, she knows a thing or two about tough characters. This time, though, she's both taking on her first directing project and playing an MMA fighter in the upcoming film Bruised. TIFF recently shared a photo on their social media from the movie. Check it out:
I certainly wouldn't want to hop into the boxing ring with this Halle Berry, that's for sure. Even though Halle Berry has produced a few other projects like Frankie & Alice, this will be her first time taking on directorial duties. And it's exciting to see the actress take on this role, since she's been doing work in Hollywood since the late 1980s.
In Bruised, Halle Berry will play Jackie "Justice," a disgraced MMA fighter that lost at the one thing she's good at. When her six-year-old son comes back into her life, she decides to fight for him to give him a good life and starts training to become the champion she was meant to be. The script is by Michelle Rosenfarb and the movie will be produced by John Wick producer Basil Iwanyk.
Halle Berry puts a tremendous amount of commitment into her roles. According to Deadline, while filming a fight scene on the set of Bruised, she suffered an injury that ended up halting production as a precautionary measure. Plus, to prepare for the role, she trained for weeks with personal trainers and athletes.
With Halle Berry taking on directorial duties, this could be a big moment in her career. She follows many other actresses that have directed feature films and crafted big hits in the process, like Greta Gerwig, Jodie Foster, and Angelina Jolie. Considering the heart-felt redemption story and the experience Halle Berry brings to the table, Bruised feels like a promising project.
Even though Halle Berry is stepping behind the camera for Bruised, don't count her out as still taking on roles in other movies as well. It was announced earlier this year that she will star in Roland Emmerich's Moonfall, about a team of NASA astronauts trying to stop the moon from colliding with the Earth.
Believe it or not, Bruised is coming up faster than you might expect. The Oscar-winner's directorial debut is set to make its world premiere at the Toronto International Film Festival sometime in September 2020. There's no news yet on when it'll make a wide release. So, as always, be sure to stay tuned to Cinema Blend.
Your Daily Blend of Entertainment News