How Angelina Jolie Felt About Directing Brad Pitt In By The Sea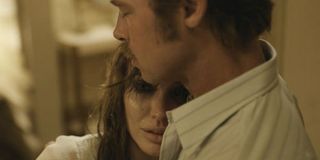 Since Angelina Jolie took over the directing seat her career has taken a turn, a turn that probably puts strain on the actress' relationship. The Oscar-winning actress no doubt took her acting career quite seriously, but when you putting directing on the ticket too, well things can get a bit more stressful. But how do you make it even more intense? Well, adding your husband to the cast could do it. Now as Jolie gears up for the release of her third directorial effort By the Sea, she opens up about working with her husband on a film about a marriage in crisis, and as the actress puts it, 'it was heavy'.
As a Hollywood couple, and the most famous one at that, Jolie and Pitt have been at the center of much speculation on the state of their marriage. The two don't think twice when the media rumors separation and turmoil. But Jolie's latest directorial effort puts her and her husband at center stage in a crumbling marriage. And for Jolie, it was a tough project to work on. In an interview with the Directors Guild Of America, Jolie opened up about what it was like working with her husband on set, and this time around, directing him:
Basically it sounds like a lot of the couple's issues were brought up on set. But, if you've caught a glimpse of the first trailer for By the Sea it seemed to have worked, as this film looks to be one of Jolie's most mature pieces of work as a director to date. But like in any marriage, it can be rough bringing out the worst in each other. And for a movie documenting a couple's crumbling marriage, we can only imagine how difficult it must have been for the two.
But writing and directing the film, Jolie knows exactly what she wants from her actors, and who better to cast in a role than someone she knows can give her what she wants. And someone she knows how to get a reaction out of. I mean, this is her husband too, not just a critically-acclaimed actor. And playing a tense married couple inevitably brought out some arguments. Jolie continued:
Overall though, it sounds like the perfect dynamic for the upcoming film, despite things getting 'heavy' on set. And the footage we've seen thus far only helps that argument. By the Sea hits theaters November 13.
Your Daily Blend of Entertainment News
Thank you for signing up to CinemaBlend. You will receive a verification email shortly.
There was a problem. Please refresh the page and try again.