How Hamilton's Leslie Odom Jr. Fought For The Cast, According To Emmy Raver-Lampman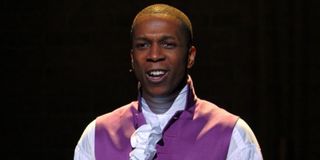 Anyone who's seen Hamilton - either on stage or on Disney+ - knows it's part marathon, part sprint for the cast. With tons of high-energy musical numbers, it's the kind of show that takes a lot out of performers, and one that can take its toll after a while. According to Emmy Raver-Lampman, Leslie Odom Jr. fought to help make sure the cast was taken care of, and that helped them all make sure Hamilton could continue to be a success.
Before she starred in Umbrella Academy, Emmy Raver-Lampman was an ensemble member and understudy in Hamilton. As a part of the original Broadway cast, she was a part of the show's historic debut at the Richard Roger Theater -- and was well-versed in the unique toll that performing eight shows a week can have on an actor.
In addition to performing a full schedule, the success of Hamilton often meant the cast had other opportunities, like performing at the White House for Barack and Michelle Obama. While those moments were memorable, they also meant the cast rarely had a moment to rest. Emmy Raver-Lampman recently told Collider that Leslie Odom Jr. led the charge to make sure that the Hamilton cast didn't get burned out. That included advocating for them behind the scenes:
Leslie Odom Jr. had an especially taxing role in Hamilton. As Aaron Burr, he was both narrator and villain and led many of the show's most exhilarating (and probably exhausting) musical numbers. So it's understandable why he would have wanted the cast to get the support they needed. Emmy Raver-Lampman told Collider that Broadway actors are, in many ways, athletes. So advocating for things like physical therapy and other provisions to make sure their bodies stayed intact probably made a huge difference.
The end result of all these efforts helped make Hamilton the legendary show it is today. Since it hit Disney+, it's enjoyed a new wave of popularity, and it's given the cast a chance to reflect on what the show means to them.
Leslie Odom Jr. himself has opened up about how special Hamilton is and what he thinks it means for the future. The role he played in making sure the artists involved had the support they needed could also be a part of Hamilton's legacy, and one his castmates clearly won't forget.
Your Daily Blend of Entertainment News
Your Daily Blend of Entertainment News
Thank you for signing up to CinemaBlend. You will receive a verification email shortly.
There was a problem. Please refresh the page and try again.