Would The Walking Dead's Jeffrey Dean Morgan Do A Negan Spinoff Movie? Here's What He Said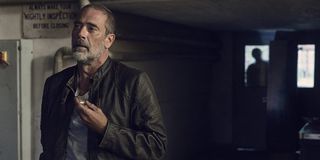 Over the past few seasons of The Walking Dead, Jeffrey Dean Morgan's Negan has become an overpowering force. His dark, charismatic, and brutal personality have made him quite the villain to reckon with. Since his character is so well known in the TV show and the comics, would he consider doing a Negan spinoff movie? Well, needless to say, he has some thoughts.
Jeffrey Dean Morgan has never shied away from expressing his love for the character of Negan. When asked what he thought of the Negan Lives comic and if he'd be up for a spinoff movie, here's what he had to say:
Based on his comments during the TWD Universe Family Hangout during Comic-Con@Home 2020, it sounds like Jeffrey Dean Morgan is more than willing to bring his character into a feature-length story. And let's be honest, who wouldn't want to see the character make take center stage?
The Negan Lives comic was recently published on July 1, 2020, and centers on Negan being pushed out into isolation by a society that's rebuilding. This premise lines up almost perfectly with the show so, with Negan on his own, it would make some sense to follow him in this new state.
Since Andrew Lincoln's Rick Grimes, who now is practically legendary in the world of zombie stories, is getting one of his own spinoff movies, it feels fair to turn the tables and give Jeffrey Dean Morgan's incredible villain a spinoff as well.
Believe it or not, according to Jeffrey Dean Morgan, there has been talk about doing just that. Last year, he confirmed that the idea was being discussed, though he added that they need to do it sooner rather than later because he's only getting older at this point.
If a Negan spinoff movie does eventually happen, it would be interesting if they decided to put into theaters like the Rick Grimes movie. While Andrew Lincoln and his character Rick Grimes could likely draw a crowd for his heroics, Negan's infamous reputation might be a harder sell for some fans.
But what do you think? Would you watch a Negan movie starring Jeffrey Dean Morgan? Let us know in the comments!
Your Daily Blend of Entertainment News
Thank you for signing up to CinemaBlend. You will receive a verification email shortly.
There was a problem. Please refresh the page and try again.