AMC Boss Admits The Walking Dead Lost Viewers Over Negan Being 'Too Hopeless'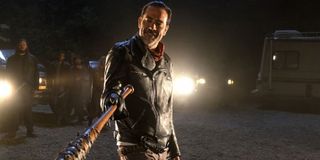 The Walking Dead is currently in its tenth season, but one of the show's scariest villains remains Jeffrey Dean Morgan's Negan. After making his introduction at the end of Season 6 and killing both Abraham and Glenn in the clearing in Season 7, Negan made an impression that fans didn't soon forget. Recently, however, AMC president Sarah Barnett admitted that The Walking Dead lost viewers over Negan being "too hopeless" a villain. Here's what she had to say:
Sarah Barnett's reveal helps to explain why Negan's presence on The Walking Dead tapered off. While Negan was an incredibly popular character and loomed large for a while, the show did scale back on his storyline in Season 9. The Walking Dead showrunner Angela Kang even stated that "less was more" when it came to Negan, who went from murderer to prisoner.
AMC's president knows that Negan proved too hopeless for audiences because of a "massive segmentation study" that revealed viewer preferences and that's essentially what drove the creative trajectory for Negan in The Walking Dead. But, hey, at least the writers decided to keep Negan alive instead of killing him off.
And despite Negan's storyline being scaled back in The Walking Dead, it doesn't mean fans have seen the last of him. There's always a possibility that Negan could get his own movie and, according to Jeffrey Dean Morgan, the idea has "been discussed."
Speaking with The L.A. Times, Sarah Barnett was asked how the network avoids The Walking Dead fatigue, especially since the series has spawned two spinoffs and an upcoming theatrical film starring Andrew Lincoln's Rick Grimes, without turning away fans of non-zombie shows like Better Call Saul. The study that revealed viewers' feelings on Negan ultimately showed that they don't mind watching different genres.
I think she's right about fans not discriminating between genre and non-genre shows. Viewers can be passionate about The Walking Dead as much as they were about Breaking Bad without breaking a sweat. The two aren't mutually exclusive, after all.
The Walking Dead Season 10 returns with new episodes on Sunday, February 23 at 9 p.m. ET on AMC. For more on what to watch, be sure to check out our 2020 midseason schedule to find out when every new and returning show will premiere.
Your Daily Blend of Entertainment News
Thank you for signing up to CinemaBlend. You will receive a verification email shortly.
There was a problem. Please refresh the page and try again.