Why Scarlett Johansson And Colin Jost Decided To Postpone Their Engagement In The Middle Of The Pandemic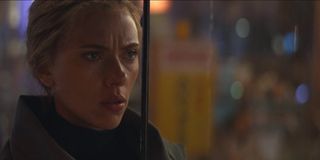 For months, the pandemic has shot down so many business and events across the United States, with few things left untouched, including concerts, theaters and even weddings. With so much left uncertain right now, recently engaged stars Scarlett Johansson and Colin Jost have had to rethink how they're going to get married and postpone the wedding in the process.
While it's totally plausible to have a small wedding during the pandemic, it's unlikely that would be the case for Scarlett Johansson and Colin Jost. With that said, they've had to adjust accordingly. Here's how Colin Jost explained it to Radio Andy:
This is absolutely understandable. The health risks are a bit too high, which would only add to the stress already inherent in a wedding. A big wedding right now would likely be a logistical nightmare to keep everyone six feet apart and require masks. Besides, who wants a bunch of wedding photos with people wearing masks anyway?
Colin Jost and Scarlett Johansson met in 2006 on Saturday Night Live. At the time, Colin Jost was a first-time writer and Scarlett Johansson a first-time host. However, it wasn't until late 2017 that they started dating.
The star couple dated for two years before officially becoming engaged in 2019, but they didn't set a date. This will be Colin Jost's first marriage and Scarlett Johansson's third. Johansson was previously married to Deadpool's Ryan Reynolds and advertising agency owner Romain Dauriac.
Wedding plans aren't the only thing put on hold for the two stars. Scarlett Johansson, of course, is a huge Hollywood actor and well known for her role as Black Widow in the MCU. It was announced back in March that her standalone film, Black Widow, which was supposed to kick off Phase 4 of the MCU, would be delayed and pushed back to November 6, 2020, a date originally held by The Eternals.
For Colin Jost, SNL announced back in March that it would postpone its episodes as well. They were able to put on three special SNL at Home episodes, with the first one including Tom Hanks as the guest host. However, for their new season in the fall, the SNL team expects to leave quarantine and return to business as usual.
It's unknown when Colin Jost and Scarlett Johansson will move forward with their wedding plans. Like most, they'll likely wait it out until things are safe again. Or, if they get antsy, maybe they could just do a drive-in movie theater wedding? If there are any other significant changes with their wedding plans, we here at CinemaBlend will let you know.
Your Daily Blend of Entertainment News
Thank you for signing up to CinemaBlend. You will receive a verification email shortly.
There was a problem. Please refresh the page and try again.