Why Mulan Going To Disney+ Could End Up Being A Mistake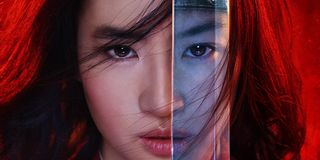 A pretty big shoe dropped in the world of theatrical exhibition this week, as Disney's Mulan has been announced as going to theaters where available, while simultaneously letting Disney+ subscribers unlock the film for home viewing. At $29.99, the premium on seeing the previously delayed March release has been set, and now the market is primed to react as it is wont to do.
While Disney's stocks have jumped as an initial reaction to this announcement, it feels like in the long run, this "one-off experiment" with Mulan could end up being a mistake. With equal amounts of respect and reverent scrutiny, here are some reasons why Disney's premium release of its next potential live-action blockbuster might be a miscalculation on the studio's release.
The Move Is Already Upsetting Theatrical Exhibitors
With Disney already requiring theaters to jump through very specific hoops to show films like those of the Star Wars franchise, the relationship between exhibitor and studio has been primed for such discontent. Now, with those conditions more than likely still being required for a theater to show Mulan, the already-crippled industry could take another hit because of this move. We've already seen a video of a French cinema owner destroying a standee for Mulan with a baseball bat, and that only feels like the beginning to the negative reaction this decision has incurred. Unless Disney is looking to cut ties with the theatrical experience totally, this is a relationship it'll need to keep cultivating for the foreseeable future.
You'll Need To Be A Disney+ Member To Watch Mulan Early
Technically, Disney's selling point of $30 to unlock Mulan is slightly misleading when you take into account that you need to be a Disney+ subscriber to even do so in the first place. Rounding up, anyone who wants to unlock Mulan is really paying $37, in the worst case scenario, as that's the premium fee plus a month's worth of Disney+. However, if new subscribers forget to unsubscribe after watching the movie, that'll only increase as time goes on, with the best case scenario already clocking in at almost double the price to rent from the competitors. Even in the big Universal/AMC compromise, those rentals look to be staying at the $19.99 price point, at least for the moment.
Mulan Costs $30 To Unlock, Not To Rent
Unlike other studio releases that went to Premium VOD this year, like Trolls: World Tour or even Disney's own Onward, the $29.99 premium you're paying isn't to own or even rent the film. You're merely paying for the privilege to unlock the film in your Disney+ library early, and for as long as you're a subscriber to the platform. Whereas Warner Bros titles like Birds of Prey or Scoob could initially be rented at $20 or bought outright for $25 digitally, Mulan technically costs $30 to only lift the gate separating Disney+ subscribers from that content they'll eventually get if they wait long enough. And if this situation is anything like Scoob's HBO Max debut, we might not have to wait that long after the theatrical/premium debut for that to happen.
Eventually Mulan Will Be Available To Disney+ Members Without The Added Cost
All of this hoopla is surrounded by the fact that, as anyone could tell you, Mulan will be "unlocked" at a future date for all Disney+ members. Without the perks of ownership or one-time rentals, you're basically asking subscribers and newbies alike to pay for something that's already going to happen anyway. If Mulan is still going to theaters regionally when they open up, and this move is already going to trigger the usual Disney+ release in time, how does a $30 premium for early access "enhance the value and attractiveness" of being a Disney+ member?
Disney's Premium VOD Release Of Onward Was A More Accessible Model
While it was shelved early in its theatrical run, Disney experimented with one of the earliest PVOD releases when it sent Onward home just two weeks after it opened domestically. Starting with a rental/purchase model, and eventually rolling the title out to Disney +'s library at no extra cost just two weeks later, it feels like Disney has already dabbled in a "one-off experiment" that showed them what an early release would look like for the bottom line.
An Early Release Of This Sort Could Severely Cut Into Mulan's Potential At The Box Office
There was a reason Disney pushed Mulan's theatrical release date rather than just drop it onto Disney+ in the first place. The film has such high expectations, and an equally mammoth budget, that it was one of those movies that really needed the flash and bang of a theatrical presence to make its money back. Not to mention, director Niki Caro's vision for reimagining the animated Disney classic in live action looks to truly be an experience you want to see on the big screen. Offering Disney+ subscribers the choice to unlock Mulan early could cut into those crucial theatrical grosses and turn away other potential viewers with those additional hoops to jump through.
All of these aspects of Mulan's grand experimental release to early access on Disney+ point to an overall picture that could damage more than boost the studio's two key relationships. If fans feel taken advantage of, it turns them away from Disney's product in any context of release; be it theatrical or streaming. More importantly, if theatrical exhibitors feel as if they've been betrayed, those steep conditions they've previously felt no choice to accept could be rejected in protest.
What does it all add up to? Well, potentially one of the biggest mistakes Disney could make as a studio. But, that's just based on the opinions shared above, and it's not like Mulan is going to reverse course at this point. The cold hard facts are that Disney is going to put its live-action film into theaters and early access on Disney+, and all anyone can really do at this point is wait and see what those results turn out to be once Mulan hits both the big and small screen, where available, on September 4th. Which is why we'd like to hear from you, the reader, on your thoughts pertaining to the matter. Vote in the poll below, and don't forget to hit the comments section to explain your feelings. You never know who could be reading, and your opinions might be factored into the grand scheme of events as they move forward.
This poll is no longer available.
Your Daily Blend of Entertainment News
Senior Movies Contributor
CinemaBlend's James Bond (expert). Also versed in Large Scale Aggressors, time travel, and Guillermo del Toro. He fights for The User.
Your Daily Blend of Entertainment News
Thank you for signing up to CinemaBlend. You will receive a verification email shortly.
There was a problem. Please refresh the page and try again.