Tenet's Robert Pattinson Reveals Crazy Car Stunt He Did Himself That Scared Him Witless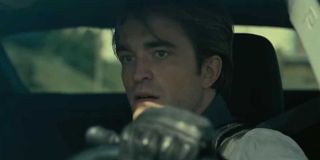 By now, most of us are ready to see Robert Pattison swing across the rooftops of Gotham and do combat with nefarious supervillains in Matt Reeves' The Batman. However, before his Dark Knight debut, we'll see him take on a completely different kind of force in Christopher Nolan's Tenet. The film is set to have some pretty extraordinary action sequences, with Nolan looking to employ more practical effects to likely achieve a level of realism. Now, it would appear that Pattinson took part in a pretty big car stunt, and it left him a bit shaken.
Robert Pattinson recently recalled having to shoot a Tenet scene that took place on a highway in Estonia – and involved hundreds of cars. While Christopher Nolan seemed to feel good about filming the scene, Pattinson had somewhat "mixed" emotions about the matter:
Driving under normal circumstances can be a challenge for many people, but the thought of having to fly past cars at 80 miles per hour sounds terrifying. Thankfully, Robert Pattinson was in the hands of a capable director, one who apparently didn't even give it a second thought.
This highway scene, which Pattinson discussed with The Irish Times, is only one of several standout moments that have been teased from Tenet thus far. One of the film's trailers teased a sequence that appeared to involve a plane being blown up. Christopher Nolan later opened up about the feat, saying that he originally planned to use miniatures but ultimately found that using a real plane would be more feasible.
Tenet's use of time inversion should also lead to some pretty impressive scenes. As a matter of fact, one of them involves cars, which means it's probably a safe bet that this is the moment Pattinson is referring to in his story.
The more we hear about this movie, the harder it gets to wait for it to finally hit theaters. Nevertheless, it looks like moviegoers will finally be able to sit down to watch the epic starting next month.
There's honestly no telling what else awaits us in Christopher Nolan's latest project but, if history has taught us anything, it's that Nolan knows how to tell a thrilling story.
You can see Robert Pattinson barrel down a highway like a madman when Tenet begins opening in select theaters in the US on September 3, 2020.
Covering superheroes, sci-fi, comedy, and almost anything else in film and TV. I eat more pizza than the Teenage Mutant Ninja Turtles.
Your Daily Blend of Entertainment News
Thank you for signing up to CinemaBlend. You will receive a verification email shortly.
There was a problem. Please refresh the page and try again.