Christopher Nolan's Tenet Has New Plans For Its Release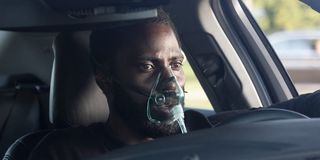 Plenty of excitement has been brewing around Christopher Nolan's latest movie Tenet this entire year. With a compelling story and concept, a thrilling trailer, and news of a Christopher Nolan actually crashing a real plane into a building, fans are eager to see it. While Tenet has seen a number of delays due to current events, it's been recently announced that there are new plans for its release.
Originally, Tenet was supposed to be a summer blockbuster on July 17, 2020. Those plans were derailed, but according to Variety, the new plan is to release Tenet internationally on August 26 and then in limited theaters in North America on September 3.
The plan to release Tenet to 70 international countries, including Australia, the United Kingdom, Germany, France, Russia, among many others, is rather unprecedented in the movie industry. The US has one of the largest movie markets and is typically the first to get a movie release from Hollywood. However, since international theaters are starting to reopen, they need a big movie to entice crowds.
US movie theaters have yet to reopen, despite AMC and other major theater chains originally planning to have them open by July, large in part because the US has seen a spike in COVID cases. Without theaters reopening, it only makes sense for studios to delay huge movies like Tenet.
Tenet's release date has already been delayed three times. With the future unknown, the last news of the delay didn't provide a new release date but hinted at the possibility of an unconventional release plan for the film. Now, we know their new plans to take the movie to international markets first.
Christopher Nolan is well-known for his love of the theater-going experience and isn't a fan of movies skipping out on releasing in theater and going straight to video instead. As such, he's reportedly dug in his heels about Tenet's release date, not concerned about how Tenet will perform at the box office, but instead wanting to stand in solidarity with theaters.
Such a hard line on the Tenet release reportedly has put Nolan in conflict with Warner Bros., his longtime movie-making partner. Warner Bros. no doubt wants to make sure they see a return on their investment, while Christopher Nolan just wants to get his movie out to the masses in hopes it could reignite the box office. This new plan may prove to be a solid middle-ground during difficult times.
It'll be interesting to see how the international release affects Tenet's overall perception back in the US once reviews start flooding the internet. If it does well at the international box office, the excitement to see Tenet might reach a fever pitch. On the other hand, if it isn't received well, one can imagine the box office impact in the states might be tepid.
Your Daily Blend of Entertainment News
Your Daily Blend of Entertainment News
Thank you for signing up to CinemaBlend. You will receive a verification email shortly.
There was a problem. Please refresh the page and try again.