Captain Marvel's Ben Mendelsohn Reveals The Original Plans For His Skrull Character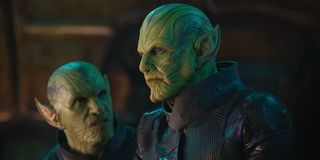 CinemaBlend participates in affiliate programs with various companies. We may earn a commission when you click on or make purchases via links.
It's a funny thing how major events in a story can change throughout the filmmaking process. In Captain Marvel's Ben Mendelsohn's case, his Skrull character, Talos, would have had a much different road if they had stuck to the original script. And he recently revealed those surprising original plans.
Ben Mendelsohn recently spoke with NME about Captain Marvel and revealed some very surprising information about his role. While today it looks like there's a chance his shapeshifting Skrull character might play a larger role in the MCU, that may not have been the case early on in Captain Marvel's production. As Mendelsohn explained this bombshell:
That's some pretty surprising news. The Skrulls are usually portrayed as evil in the comics, so Captain Marvel subverted fan expectations by making them helpless refugees that team up with the hero. Perhaps the original draft of the script was going to make him evil and kill him off, but decided to take it in another direction? It's hard to say one way or the other, but the writers clearly weren't planning to have Talos be a major player.
Marvel fans can re-watch Ben Mendelsohn's time in the MCU on Disney+. You can use this link to sign up for the streaming service.
Of course, Ben Mendelsohn's Talos didn't just appear in Captain Marvel, but also had a surprise cameo at the end of Spider-Man: Far From Home. In the scene, it's revealed that Talos was shapeshifting as Nick Fury throughout the whole movie and was under orders by the real Nick Fury to give Tony Stark's glasses to Spider-Man. Not only has this caused fans to question how often Talos has shapeshifted as Nick Fury in the past, but what his role might look like in the future of the MCU.
Right now there's a ton of theories about what this could mean for Phase Four of the MCU. But, officially, it's mostly unknown what role Talos could play, if any, moving forward. However, with such a big reveal at the end of Spider-Man: Far From Home, I wouldn't be too surprised if he made another appearance in another Marvel movie down the road.
While there's plenty of unknowns, one thing we do know is that Captain Marvel 2 is indeed happening with Brie Larson set to reprise her role as the titular character. This month, in a surprise bit of news, we also learned that Candyman's Nia DaCosta will be sitting in the director's chair. Unfortunately, we don't know at this point if Ben Mendelsohn will be returning to play Talos. So, stay tuned to CinemaBlend for the latest news.
Your Daily Blend of Entertainment News
Your Daily Blend of Entertainment News
Thank you for signing up to CinemaBlend. You will receive a verification email shortly.
There was a problem. Please refresh the page and try again.