See What Charlize Theron Could Have Looked Like As Captain Marvel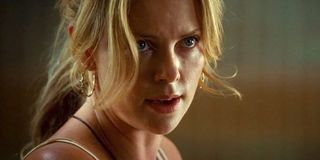 Today, we know the powerful Captain Marvel is played by none other than Academy Award-winning actress Brie Larson. But, at one time, many other actresses had been rumored to play the titular hero, including Charlize Theron. Now, we're getting a little glimpse of what she might have looked like as one of the Marvel Cinematic Universe's most powerful characters.
With Brie Larson having played role role of Carol Danvers in two Marvel films already (Captain Marvel and Avengers: Endgame), she's practically solidified her presence as the hero. However, one Marvel fan shared a totally different take on Instagram, with fan art of Charlize Theron suited up as Captain Marvel. And I have to say, it looks pretty awesome. Check it out:
There is something compelling about this casting. Charlize Theron, after all, has been one of several actresses proven to kick ass on multiple occasions. From Mad Max: Fury Road to The Old Guard, she continues to up the ante and provide solid action with compelling emotional performances. So could she play Captain Marvel? Absolutely. But obviously, that ship has long since sailed.
However, before the ship left the harbor, there had been rumors that Charlize Theron was being considered for the role with a possibility of Angelina Jolie directing. Other actresses also rumored to be considered were Jessica Chastain and Katheryn Winnick.
Though Charlize Theron is a shoo-in for action roles now, she's spent a good chunk of her career trying to work her way into that kind of role. And according to her, throughout her career, she's never been approached to be in a Marvel movie, which is honestly surprising considering the work she's done in the past.
Despite not being in a Marvel movie, she's paved her own way recently, appearing in the big-screen adaptation of The Old Guard, a story about immortal mercenaries protecting the world while fighting to keep their identities secret. Released this summer, The Old Guard has become a huge hit for Netflix, reaching 72 million homes. So, Marvel Studios may have lucked out on hiring Theron.
And it looks like Charlize Theron might not be done with superhero movies, much less action movies. Discussions are currently underway about a potential sequel to The Old Guard, which wouldn't be altogether surprising considering its success.
On top of that, Charlize Theron's super-spy, action thriller, Atomic Blonde 2, is in active development, thrusting her back into another role where she cracks skulls and takes names. So even though Charlize Theron fans won't be able to see her fight in a Marvel superhero suit like Captain Marvel's, they will be able to see her take out bad guys in other ways. Be sure to stay up to date with the latest news at CinemaBlend.
Your Daily Blend of Entertainment News
Your Daily Blend of Entertainment News
Thank you for signing up to CinemaBlend. You will receive a verification email shortly.
There was a problem. Please refresh the page and try again.