Port Disney: The Disneyland Companion Park That Could Have Been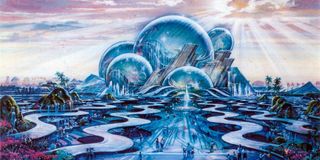 It took more than 10 years for Walt Disney World to open its second theme park, but when that happened, everything about the theme park business changed. With two separate parks, a trip to Walt Disney World went from being one stop on a Florida vacation to being an entire vacation all on its own. When Michael Eisner became CEO of the Walt Disney Company, plans to build even more theme parks in Flordia went into near-immediate action, and along with that came plans to do the same thing at Disneyland in California.
Eventually, those plans turned into what is today Disney California Adventure, but DCA was, at the very least, the third idea for what a second gate in California would look like. One of the earlier ideas would have put a second California park miles away from Disneyland, and created one of the most unique entertainment complexes we'd ever seen. Unfortunately, we would never actually see it. It was called Port Disney.
The Disneyland Hotel Gives Birth To Port Disney
The story of what would have been Disney's newest attraction begins with one of the places that has been around almost as long as Disneyland itself. When Disneyland was being built, Walt Disney wanted to build a hotel to accompany the park, but with so much of Walt's own wealth tied into the theme park, there was no money available to build the hotel. Walt turned to known hotel companies, like Hilton and Sheraton, but both declined. Eventually, Walt made a deal with film producer Jack Wrather, who already owned a few hotels across the country, to build the Disneyland Hotel.
The Disneyland Hotel was such a success that when Walt made offers to purchase the hotel from Jack Wrather years later, Wrather refused to sell. When Michael Eisner became CEO of Disney in 1984, he wanted to purchase the hotel too, but Wrather still wouldn't sell. However, Jack Wrather died shortly after Eisner became CEO, and four years after that, Wrather's widow passed away. After that happened, Disney didn't simply buy the Disneyland Hotel, but the entire Wrather Company. This made Disney finally the owners of the Disneyland Hotel, and several acres of nearby land, but it also gave the company the lease to the Queen Mary and the Spruce Goose, which were on display in nearby Long Beach, CA, where the Wrather company also owned the rights to develop over 200 acres near the Port of Long Beach.
This gave Disney not one, but two different potential locations for a second theme park: one near Disneyland, but another potentially more interesting idea on the California coast.
Port Disney
The Port Disney plans were quite ambitious. While we would have seen a second Disney theme park, called DisneySea, surrounded by up to five hotels, the potentially more interesting aspects of the larger complex would have been Disney's control of the cruise ship terminal and the construction of a Monorail system that would have connected the entire Port Disney complex.
DisneySea would have been a Disney theme park where everything had a distinctly oceanic bent. In fact, in addition to theme park lands with names like Mysterious Island and Fleets of Fantasy, the park would have also seen some legitimate scientific advancement through an area called Oceana, which would have included both an educational Ocean Outreach Center and a place called The Future Research Center, which would have been a functional oceanographic research center.
The Queen Mary would have remained on display as part of Port Disney, though the hangar that housed the Spruce Goose would have been replaced; it's unclear what Disney planned to do with it.
Potentially the most interesting part of Port Disney, at least in retrospect, was the inclusion of the cruise ship terminal. All this came years before the Disney Cruise Line would become a real thing, but it's easy to see just how easily Disney could have leveraged the cruise line as part of a larger Disney vacation. A cruise ship package that included a day or two at DisneySea, with hotel accommodations, before or after your cruise, is a thing that obviously would have happened had both Port Disney and the Cruise Line come to be; perhaps with a couple more days at Disneyland as well.
Port Disney Problems
Of course, Port Disney did not happen, so let's dive into why. As potentially impressive as Port Disney was, there were a lot of roadblocks to its creation. Its very size and scope would have radically changed the Long Beach port area, and a lot of people who lived and worked there weren't in love with that idea. There was almost immediately a community revolt that didn't want Port Disney to come to Long Beach. Beyond that, the California Coastal Act actually prohibited much of Port Disney from existing as designed. The amount of filling of the port that Disney wanted to do exceeded the limits the act had in place. California Senate Bill 1062 was written to amend the coastal act to allow for the things Disney wanted to accomplish, but opposition to the bill was strong and it was never voted on.
In addition, there was the fact that, when compared to putting a second theme park next door to Disneyland, the ability to leverage one park to benefit the other was just a bit more complicated for Port Disney. Selling guests on a two or more-day vacation when the two parks were next door to each other was much easier than doing the same thing with parks that would either require guests to drive there or to build some sort of transit system between the two spots.
Ultimately, building the second theme park in the existing Disneyland parking lot was just an easier and cheaper thing to do. Even the park that became Disney's California Adventure was hampered by cost-cutting as a result of the less than glowing response to the opening of EuroDisneyland, and it seems likely that the same need to trim costs would have drastically reduced Port Disney, and could have even resulted in the concept getting canceled anyway.
The Legacy of Port Disney
So Port Disney was canceled and the decision to go with a second Anaheim park became the plan. Disney divested itself of all the holdings in Long Beach and life went on, but the plan for Port Disney wasn't a complete waste of time. Around the same time that Port Disney was being shelved, the Oriental Land Company, the owners of Tokyo Disneyland, were interested in adding a second theme park of its own, and so all the ideas that been conceived of for DisneySea by Walt Disney Imagineering were dusted off.
A number of the original Long Beach DisneySea ideas got reused or reimagined in a brand new park that would come to be called Tokyo DisneySea. One of the benefits of working with the Oriental Land Company was that it didn't have the same financial concerns that the Walt Disney Company had at the time. As such, no expense would be spared when building Tokyo DisneySea, and many are of the opinion that the park may be the single greatest accomplishment in theme park design ever produced.
Every theme park idea that never happened seems awesome because we never got to see it become a reality, and there's certainly a lot to love in the idea of Port Disney. We've definitely never seen anything of its like since. Even Tokyo DisneySea is only a reimagining of the theme park without the rest of the stuff that was going to go with it. Port Disney was an incredibly ambitious idea, so much so that it's little surprise it never happened. But it's fun to wonder about just how awesome it could have been.
Your Daily Blend of Entertainment News
Content Producer/Theme Park Beat
CinemaBlend's resident theme park junkie and amateur Disney historian. Armchair Imagineer. Epcot Stan. Future Club 33 Member.
Your Daily Blend of Entertainment News
Thank you for signing up to CinemaBlend. You will receive a verification email shortly.
There was a problem. Please refresh the page and try again.