Why New Mutants Changes Magik's Backstory From The Comics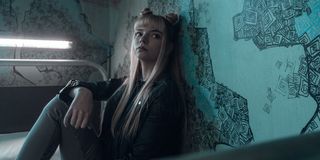 While comic books are filled with plenty of characters who have completely straight-forward and easy-to-grasp origins, they are balanced out by the creations who wind up being impressively complex, with backstories that are deeply rooted within multiple decades-worth of canon. These particular individuals can prove to be quite the challenge for filmmakers trying to adapt them into a live-action medium – and Illyana Rasputin a.k.a. Magik is a perfect example. Soon we will be seeing the sword-wielding hero make her feature debut played by Anya Taylor-Joy in the film The New Mutants, but fans shouldn't expect her to be a carbon copy from the page, as writer/director Josh Boone has confirmed that the production needed to make some simplifications to her biography.
This was one of the many topics I discussed with the filmmaker last week when I had the chance to interview him about the latest Marvel adaptation hitting theaters. We spent time talking about each of the main characters on the titular team, and while talking about Magik the main point of conversation was about how convoluted her origin in the comics is, and how she had to be simplified to a certain extent in The New Mutants. Check out Josh Boone's comments by clicking play on the video below:
So who is Illyana Rasputin a.k.a. Magik? For starters she is the younger sister of Piotr Rasputin a.k.a. Colossus (best known to movie fans from both Deadpool and Deadpool 2), and she possesses a mutant gift that allows her to generate teleportation discs, but that's the least of what's confusing about her origin story. Born in Russia, she was kidnapped by a supervillain and brought to America at a young age, but didn't stick around very long given that she was lured to an alternate dimension known as Limbo by a demon named Belasco. In order to try and free himself so that he can try and conquer Earth, Belasco needs to corrupt her soul, however, she is able to eventually turn the tables on him and escape after 10 years. Adding to the strangeness, when she returns to her own reality she discovers that no time has passed even though she is a full decade older.
Getting all of that information into even a solo movie about a comic book hero would be difficult, let alone a team feature, so when it came time to adapt Magik for The New Mutants Josh Boone had to get a bit creative. Discussing the backstory, the filmmaker explained that the goal was to translate the source material as best as possible, but added that the process required making some significant changes and omissions. Said Boone,
Ultimately, the struggle is really the same as any comic book character being translated to the big screen, only a bit more extreme. Almost every hero adapted has seen at least one part of their legacy from the page changed for the sake of clarity, and some require more work than others. Magik happens to be a case where there was a lot of work needed, but hopefully she will still end up being the heroine that fans recognize.
It's a push and pull that is a part of every adaptation, and Josh Boone continued by using another character to explain why certain changes are so crucial – specifically one from the comics who was raised in an ancient Roman society ruled by a powerful witch deep in the Amazon rainforest:
Up next: Josh Boone Interview: Director Talks 'The New Mutants' And More
As for precisely how Magik's origins have changed, fans can find out the full story this weekend, as after multiple delays over the last three years The New Mutants is finally hitting theaters. In addition to Anya Taylor-Joy, the film also stars Maisie Williams, Blu Hunt, Charlie Heaton, Henry Zaga, and Alice Braga, and follows the titular team of young heroes as they work to both try and harness their special individual powers and also face off against a malevolent spirit known as the Demon Bear. Check it out for yourself on the big screen, and be sure to stay tuned here on CinemaBlend as our coverage of the long-awaited movie continues.
NJ native who calls LA home; lives in a Dreamatorium. A decade-plus CinemaBlend veteran; endlessly enthusiastic about the career he's dreamt of since seventh grade.
Your Daily Blend of Entertainment News
Thank you for signing up to CinemaBlend. You will receive a verification email shortly.
There was a problem. Please refresh the page and try again.