Harry Potter Star Had A Hilarious Response After First Learning About Their Character's Death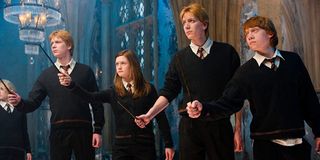 In the Harry Potter movies, there seems to always be some kind of heartbreaking death. From Cedric Digory to Albus Dumbledore, these deaths hit you where it hurts. But, as it so happens, one Harry Potter star recalls reading about his own death in the book and giving a big of a shocked, but hilarious response.
James Phelps, who played Fred Weasley since Harry Potter and the Sorcerer's Stone, had no idea his character died before reading about it in the novel Harry Potter and the Deathly Hallows. Readers were obviously surprised by the death but imagine James Phelps' reaction. Well, you don't really need to imagine anymore. According to Metro, he describes his response in detail here:
I'd be laughing it wasn't still so sad. It was a lot to take when J.K. Rowling killed off beloved characters like Albus Dumbledore, but a bit too much when Fred Weasley, the affable jokester and twin, died in the Battle of Hogwarts. I mean, even J.K. Rowling regrets killing off Fred Weasley.
In the book, Fred Weasley fought alongside his brother Percy at the Battle of Hogwarts in the Room of Requirement before Fred died from an explosion. Essentially the same thing happens to Fred in the movie, but it's just not shown. All we see is his family standing around his body.
Since Harry Potter and The Goblet of Fire, it seems like J.K. Rowling made it a habit to kill off one major character at the end of each book, starting with Cedric Digory, played by Robert Pattinson. Sirius Black, Albus Dumbledore, Severus Snape, and Fred Weasley, among many others, followed afterward.
Of course, unlike some actors and their characters, James Phelps had a full run playing Fred Weasley in every single Harry Potter movie. So, while his character's death is super sad, at least it happened at the very end rather than earlier. For more movie news, be sure to stay tuned to CinemaBlend.