Dune Director Denis Villeneuve Admits Being 'Half-Satisfied' With The Original Movie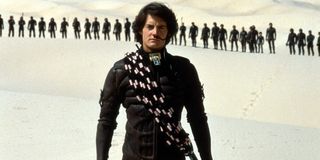 Dune director Denis Villeneuve has been hard at work wrapping up his version of the epic science fiction movie based on the novel by Frank Herbert. The original movie didn't do well upon its release and even Denis Villeneuve has said he was "half-satisfied" with the original when he first saw it.
That's not to say Denis Villeneuve isn't a fan of the original movie's director, David Lynch. He explains that he was excited when he saw the original movie, but seemed to have mixed feelings about it when leaving the theater, per Empire. This may have driven him to eventually want to tackle the project himself. Here's what he had to say:
This isn't altogether surprising, and may even be a much more optimistic take on the original Dune. When David Lynch's Dune released, it failed both critically and at the box office. David Lynch for his part didn't get the final cut and tried to disown the film, seeing it as a failure. But now the property is finally returning to theaters.
Though Denis Villeneuve has seen David Lynch's Dune, it's highly unlikely David Lynch will do the same for Denis Villeneuve. When asked if he had seen any of the new Dune photos, David Lynch said he had zero interest in the new movie because his experience in his film was a heartache.
While Denis Villeneuve has huge respect for David Lynch, it doesn't sound like he plans on emulating too much of what he did on his version of Dune. In a prior interview Villeneuve said when tackling his project, he wanted to make something that he dreamed of rather than what David Lynch was going for with Dune. Which, all things considered, is probably the best approach.
One difference between Denis Villeneuve's Dune and the original is the remake is being split into two parts. While the original tried to cram a massive epic into two hours, it looks like Villeneuve's approach will be to give it breathing room over those two parts. For some movies, this doesn't play out too well, like The Hobbit trilogy. But, for Dune, it just might work.
Dune fans eager to see the first footage for the film hopefully won't have to wait much longer. Reportedly, a trailer has already premiered before the Tenet release and should land online very soon. Dune is expected to release on December 18th, 2020. Until then, be sure to stay tuned to CinemaBlend.
Your Daily Blend of Entertainment News
Thank you for signing up to CinemaBlend. You will receive a verification email shortly.
There was a problem. Please refresh the page and try again.