The Karate Kid's Pat Morita Had A Pitch For A Fifth Movie, And It Sounds Wild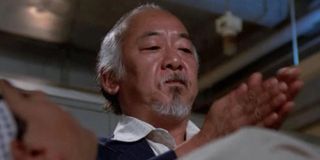 Pat Morita had a solid ten-year run as the famous Mr. Miyagi in The Karate Kid franchise. His legacy in those films continues to today, as many still revisit the films to watch his memorable scenes. However, it sounds like he had more story ideas he wanted to explore based on a pitch for a fifth movie that sounds pretty wild.
Of course, The Karate Kid movie franchise ended with The Next Karate Kid starring Hilary Swank and Pat Morita, before the original was remade. Now, it sounds like if Pat Morita had his way, another movie may have been made. Speaking to Collider, William Zabka, who originally played Johnny Lawrence in the first two Karate Kid movies, revealed that Pat Morita pitched him a movie idea. Here's what he said:
This pitch sounds like a fascinating, powerful, and sad swan song for Mr. Miyagi's character. It makes you wonder if Pat Morita thought Mr. Miyagi would eventually train Johnny Lawrence. I can only imagine how things would have changed if that happened. It's honestly a little bit sad that we never got to see a cool idea like this play out.
Though Pat Morita is now legendary for his role as Mr. Miyagi, he faced an uphill battle to land the part. Originally, no one wanted him for the role, viewing him as nothing more than the character Arnold from Happy Days. However, director John G. Avildsen gave him a shot, putting him through countless auditions, and Pat Morita proved the naysayers wrong.
Though Pat Morita passed away in 2005 and we'll never get a chance to see his pitch come to life, there has been a nostalgic return to The Karate Kid story in TV form.
Karate Kid actors Ralph Macchio and William Zabka have continued to carry on the torch in Netflix TV show Cobra Kai. The show does a great job of revealing the adult lives of their two characters, Daniel LaRusso and Johnny Lawrence, all while honoring Pat Morita and The Karate Kid's legacy. So if you're a fan of The Karate Kid and have yet to check out the show, now might be a great time to do so. And you can always go back and revisit any of the original four films in the franchise as well.
Your Daily Blend of Entertainment News
Thank you for signing up to CinemaBlend. You will receive a verification email shortly.
There was a problem. Please refresh the page and try again.