Henry Cavill's Superman Gets A Retro Look In DCEU Fan Art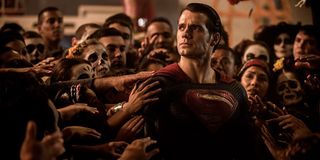 Though he's only had one standalone Superman film in Man of Steel, and appeared in Batman v Superman: Dawn of Justice and Justice League, Henry Cavill's Superman has garnered quite a bit of support from DC fans. Now fans have given Henry Cavill's Superman a super retro look in some fan art. And the results are epic.
Henry Cavill's Superman suit has been relatively the same since Man of Steel. Its design is reminiscent of many of the former Superman suits, but with an updated and modern twist. Still, there was a time when Superman's suit and his iconic "S" looked very different than it does today. So, fans took to social media and showcased what Henry Cavill would look like as the original Superman from Action Comics #1. Take a look:
Wow, that's a big change. The emblem on his chest is the primary difference, of course. However, it looks like the fans took the liberty to brighten up his eyes and give his hair the classic curl. It's hard to say if this would ever work in cinematic form, but the call back is pretty cool.
In movies and television, actors playing Superman have dawned variations of his classic suit. Sometimes the suit would be significantly toned down, like in Smallville, but more often than not, the actor playing Superman tends to wear the same suit with subtle variations. For Henry Cavill, perhaps the biggest variations for his suit are the lack of red underwear, gold belt, and bright color.
Of course, out of all of Superman's suits, it's Black Suit Superman that's a fan favorite. And ahead of Henry Cavill donning that suit in Justice League's Snyder Cu, fans took the liberty to show what he might look like if accompanied with the similarly iconic mullet hair cut. Check it out below.
Fortunately for fans, Henry Cavill hasn't hung up his suit and cape just yet. Not only has he said he would like to get another chance at a Man of Steel sequel, but he'll be in Zack Snyder's Justice League for HBO Max, rocking Superman's iconic black suit in the previously unseen footage. We got to see a few brief glimpses in the Snyder Cut's trailer.
While the prospects of a Man of Steel sequel looks less and less likely, Henry Cavill could also return in a number of different ways and has reportedly been in talks with Warner Bros. to make his return happen. Where he might appear is anyone's guess, but fans seem eager to see him show up to fight Dwayne Johnson in his Black Adam project.
At this point, considering Henry Cavill has such a striking resemblance to Superman and has earned support for playing the character, it's hard to imagine him not getting his own standalone movie and continuing to play the character. Where would they even begin to recast that role? Only time will tell.
Your Daily Blend of Entertainment News