10 Great Movies Coming To Netflix In October 2020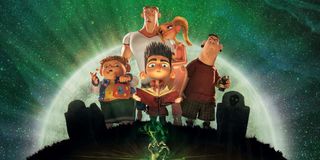 October 2020 is about to bring the world an entire month's worth of thrills, spills and chills to streaming entertainment. No matter who you stream with, there's something that's bound to catch your eye, provided you're looking in the right place. Netflix just might be that source you're looking for, and with the complete rundown for this October's incoming content recently arriving, it's time once more to cherry pick the most exciting titles to get in on in the coming month.
Should you want to take a moment and see the full slate of the new month's programming, we'll provide that link for you to run through below. But if you're ready to see the near future of Netflix, it's time to head into October 2020's great movies coming to the platform. And remember, unless specifically noted, all films are set to debut on the first day of the month.
Ace Ventura: When Nature Calls
No one would dispute the fact that Ace Ventura: Pet Detective is a modern comedy classic, and those who would probably aren't Jim Carrey fans to begin with. But the more commonly disputed subject is whether or not Ace Ventura: When Nature Calls is worth the watch. Well, in this very subjective opinion, it totally is. The gags are wilder, Carrey gets to push himself as a comedic performer and the overall sillier energy of this sequel makes the whole experience al-righty when it comes to your next laugh filled movie night.
Basic Instinct
October does signal the season of all things thrilling and haunting, which only makes Basic Instinct's arrival on Netflix all the more fitting. One of Paul Verhoven's most iconic, and most controversial, films, this erotic thriller set off a huge trend throughout the '90s, inspiring so many imitators to try and mimic its charms. But you can't beat Michael Douglas and Sharon Stone dancing around each other in a heated routine that sees Douglas trying to solve a vicious murder that Stone may have committed. If only he could stop falling for her dark and seductive ways long enough to put the pieces together.
Enemy At The Gates
World War II drama isn't exactly an underrepresented genre, which only leaves all the more room for a surprise to be discovered among that voluminous catalog. Enemy at the Gates is one of those severely overlooked gems, as the fictional adventure of real-life Soviet sniper Vasily Zaytsev (Jude Law) sees his marksmanship put to the test by a German rival (Ed Harris), and his heart won by a fellow Resistance fighter (Rachel Weisz). This historically inspired thriller is an exercise in tension, with each bullet fired reducing the odds for survival of all involved.
Fargo
This month, the fourth anthological season of FX's Fargo will hit screens after a healthy delay due to 2020 being the year that it is. the show all started thanks to inspiration, and the entire debut season of that particular series adapting that very Coen Brothers classic. Darkly comic and brutal, as any good Coen Bros movie tends to be, Frances McDormand and William H. Macy are only part of impressive cast of characters that wind around this well-loved narrative. Extortion, murder and nervous laughter all come to a head in this storied neo-noir comedy.
House Of 1000 Corpses
Friends, it's time to get spooky for Halloween, and like him or not, Rob Zombie is pretty good at shocking the world with his brand of horror. House of 1000 Corpses started as a controversial horror film that saw a studio disown the finished product, but became an indie cult classic in the long run. Sparking an entire trilogy of bloodletting, hard boiled dialogue and memorably profane dialogue, this definitely isn't a movie for everyone. But if you like what you see, you can catch The Devil's Rejects on one of several other streaming platforms (including Tubi), and you'll need a Shudder subscription to close things out with 3 From Hell. Happy haunting!
Hunt For The Wilderpeople
Taika Waititi knows how to deliver laughs while never compromising on the heart that those laughs come from. But before Jojo Rabbit brought him acclaim for such a movie, Waititi wrote and directed the wide open comedy Hunt for the Wilderpeople. When a series of mishaps leaves foster child Ricky (Julian Dennison) and one of his guardians (Sam Neill) on the run from the authorities, happenings silly, dangerous and heartfelt are all in the cards. With Taika Waititi eventually making his way into the Star Wars universe with his own unique entry to come, one can bet he'll bring this sort of energy to the table in that future film.
The Longest Yard (1974)
Most moviegoers probably remember The Longest Yard for the remake that comedy legend/Netflix royal Adam Sandler made back in 2005. But Burt Reynolds wasn't just cast in that film for his charming laugh and rugged good looks, as he once played a similar role to Sandler's in the 1974 original that the new variant was based off of. Similar in that the same basic story is being told in both films, the original Longest Yard is a film that's rougher around the edges, while still maintaining the same sense of humor, albeit with some saltier language than the "safer" revamp would have ever used.
WarGames
Nostalgia might not be what it used to be, but in a pinch, it makes for a temporary escape into a world where all one needed to hack a military computer was a phone line and some movie magic. WarGames has remained a prime choice for '80s movie fans, as this Matthew Broderick and Ally Sheedy dramedy sees thermonuclear war in the cards after a teen hacker stumbles upon what looks like a game, but is so much more. Fans of the source novel for Ready Player One know that this was one of the big changes made to that film's cinematic incarnation, and you can now see the movie that was one of Ernest Cline's easter egg challenges. What a perfect refresher just before Ready Player Two's November release in bookstores far and wide.
Moneyball
October sees writer/director Aaron Sorkin delivering another politically incendiary film with the arrival of the Netflix original The Trial of The Chicago 7. But Sorkin's talents aren't always tied up in the political, as evidenced in the Brad Pitt baseball dramedy Moneyball. Brought in to rewrite the film before it went into production, his cracking wit makes the adaptation of the true story that shook up America's pastime all the more exciting to behold. Netting six Academy Award nominations in its year of contention, you can easily add this film to an Aaron Sorkin triple feature on Netflix, as Steve Jobs is all you'd need to round out a night of fast dialogue and true convictions.
Available 10/14/20
ParaNorman
If Laika Studios needed a new name for some unforeseen reason, "Surprise Studios" might be a good candidate. The stop-motion animation firm has time and again defied expectations, whether it's with the studio's Golden Globe win for Best Animated Film with Missing Link, or with the end results of the horror-comedy ParaNorman. What begins as a tale of a boy with the unique gift of talking to spirits from beyond turns into a frighteningly funny battle to save the town that likes to mock said abilities. If you like family movies that go above and beyond into another world of heartfelt laughs, this is a no-brainer addition into your queue.
Available 10/18/20
October 2020 is ready to thrill, delight and even scare Netflix (opens in new tab) subscribers in only the best way possible. Don't forget that titles are all subject to change and availability, so if something looks like it's jumped its place in line, check the full October schedule to be sure. We'll see you back here around this time in November, when we have the time in-between raking and baking, to run through that month's best and brightest titles to come.
CinemaBlend's James Bond (expert). Also versed in Large Scale Aggressors, time travel, and Guillermo del Toro. He fights for The User.
Your Daily Blend of Entertainment News
Thank you for signing up to CinemaBlend. You will receive a verification email shortly.
There was a problem. Please refresh the page and try again.