10 Great Movies Coming To Netflix In September 2020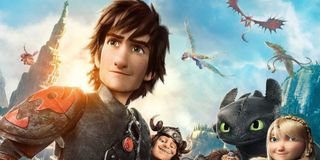 A fresh batch of Netflix titles has arrived this morning, as the listing for September 2020 dropped with the usual pomp and circumstance. Like a farmer's harvest, or fresh baked rolls, there's a certain happiness that comes with a new month's worth of movies headed to the world of streaming. Before we get too sidetracked about what the recipe to a Pineapple Express cake would look like, it's time once again to discuss the great movies coming to Netflix in September 2020.
Unless specified, all titles below will be available at the beginning of the month, ready to make your mouth, and possibly your eyes, water with joy. Here's what's coming soon to a Netflix-enabled device near you when September rolls around:
Glory
Historical epics like Glory are, of course, prone to inaccuracies and other tactics used to make for a better motion picture experience. But the intent of director Edward Zwick's story celebrating the 54th Massachusetts Infantry Regiment and their valiant fight through the Civil War has its heart in the right place. With a cast that boasts Matthew Broderick, Cary Elwes, Morgan Freeman and Academy Award winner Denzel Washington, the performances are as riveting as the action shown on the screen.
Grease
Musicals aren't for everyone, as it's not every day crowds of moviegoers find themselves craving a song and a dance to tell a story. That being said, it's kind of hard to resist the charms of the classic Grease; there's just something about John Travolta and Olivia Newton-John's on-screen shenanigans that's positively electrifying. Not to mention, pretty much every school dance back in the day played the Grease Megamix, and with the upcoming prequel Summer Lovin' also in the works, a trip back to Rydell High sounds mighty fine.
Magic Mike
Steven Soderbergh's filmography is a wild ride when you read through what it contains. The man's done everything from hard hitting drama like Traffic to carefree comedies like the Ocean's Trilogy. And then there's Magic Mike: a dramedy loosely based on Channing Tatum's early career as a stripper. With a mix of tones balanced by well-choreographed males dancing with very little left to the imagination, it's a movie that only Soderbergh could stick the landing to. And before you ask, Magic Mike XXL is streaming for free with ads on Tubi, so if you were planning a double feature, you'll get your wish.
Muppets Most Wanted
It's time for what might be considered a hot take: Muppets Most Wanted is the superior film out of the duology of Muppets movies Disney experimented with early in the previous decade. Gone is the overly soppy attitude towards the legacy of The Muppets, and in its place is a cracking comedy caper where Kermit and his doppelgänger, Constantine, switch places. With one planning to rob the world's greatest treasures, and the other just trying to get out of prison and back to his friends, the plot lends itself to hysterical jokes, appearances from all of your favorite Muppets, and yes, "long one-liner cameos" from celebrities of all stripes.
Not Another Teen Movie
Parody films are an art form that is often duplicated, but not always successful in the execution. For every Airplane! and Scary Movie, there's an Epic Movie or Meet The Spartans to cancel it out. And then there are the ones that are unjustly buried, like the seriously funny Not Another Teen Movie. Mocking films like She's All That, 10 Things I Hate About You and pretty much any other movie that falls under that wide umbrella, it's a comedy that's fondly remembered by its fans, as well as co-star Chris Evans. What, you didn't know America's Ass starred in a movie where he did his own version of the whipped cream bikini from Varsity Blues? Do you see how underrated this movie is?
Pineapple Express
If Seth Rogen and his team on Pineapple Express got their way, we'd have seen at least one sequel made to the buddy/stoner comedy come our way in the 12 years that have passed. But, things being as they were, Sony passed on a sequel, and another round of reefer madness with Rogen and James Franco at the center was not meant to be. Though if you happen to be a fan of this surprising blend of action and comedy, and you're a member of that great community known as "the internet," getting enough people to watch the original film on Netflix might put the right idea in some people's heads. It couldn't hurt.
The Producers (2005)
It's hard to capture the magic of a Broadway show like The Producers in a major motion picture. But even if the staging is a bit more static and the visuals are cranked up a little, the humorous heart of Nathan Lane and Matthew Broderick's Tony Award-winning romp is still very much present. With Uma Thurman and Will Ferrell along for the ride, Mel Brooks' record setting musical riot still plays pretty well in a more conventionally presented narrative, and the gags still play just as well as they did to sold out houses on the Great White Way. If you're missing the stage, and you've already seen Hamilton one too many times, this could be the breather you're looking for.
Red Dragon
Netflix has been on a Hannibal Lecter tear as of late. With The Silence of the Lambs and the NBC series Hannibal both landing on the platform this year, fine dining has never looked so disturbing. Now you're about to get another piece of the puzzle, as the beginning of Dr. Lecter's days in captivity are depicted in Red Dragon. Anthony Hopkins' third, and final, performance in the role goes back to when Hannibal was caught by Will Graham (Edward Norton), and their time together solving the case of the vicious murderer known as The Tooth Fairy. If you're a completist, Hannibal Rising and Ridley Scott's Hannibal film are an appetizer and dessert, respectively. But as it stands, Netflix has the complete main course of this franchise ready to dig into.
Zathura
Children's author Chris Van Allsburg is mostly known for his work on watershed titles like The Polar Express and Jumanji. But hiding out amongst his work is a book, and its adaptation, that deserve their own praises sung. Zathura: A Space Adventure is basically in the same vein as Allsburg's other board game caper, but this time, the action goes into the stars. Not only did this movie help build the resume of The Hunger Games' Josh Hutcherson, as well as Kristin Stewart herself, but director Jon Favreau would rocket into another realm himself, as he went on to direct Iron Man.
How to Train Your Dragon 2
Ready for another confusing round of streaming franchise fun? How To Train Your Dragon 2 is about to head to Netflix, with the first film currently parked on Prime Video, and How To Train Your Dragon: The Hidden World still cooling its heels on Hulu. Now one would assume all three will eventually head to Peacock, as Universal owns the series and its home studio, Dreamworks. But for now, that's your path to watching all three of these high flying epics. Is it worth the effort if you're a subscriber to all three platforms? Absolutely, but make sure you've got plenty of tissues handy for How To Train Your Dragon 2 on hand. Trust us.
Available 9/11/20
The Netflix (opens in new tab) playground has all sorts of excitement in store for September 2020, and this isn't even all of the action headed your way in that month. So be sure to check out the full lineup of debuts, both on the TV and movies sides of the house. Also, if you want to see what highlights came online in the month of August, we'll provide that link for you to peruse. Until next time, stream safely, and responsibly, and we'll see you back here next month!
Your Daily Blend of Entertainment News
Senior Movies Contributor
CinemaBlend's James Bond (expert). Also versed in Large Scale Aggressors, time travel, and Guillermo del Toro. He fights for The User.
Your Daily Blend of Entertainment News
Thank you for signing up to CinemaBlend. You will receive a verification email shortly.
There was a problem. Please refresh the page and try again.