Could Netflix's Enola Holmes Get A Sequel? Here's What The Director Says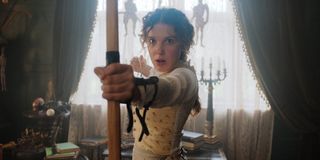 Netflix's new movie, Enola Holmes, asks us to view one of the most famous characters in history -- Sherlock Holmes -- through a decidedly unique lens. Showing a kinder, gentler Sherlock is certainly an intriguing premise, and it's one that has left some fans wanting more. That, naturally, means many of us are wondering if we can expect a sequel any time soon. According to the film's director, there may be hope.
Enola Holmes has been a hit with critics thus far, many of whom found the Netflix film to be a refreshing take on the world inhabited by Sir Arthur Conan Doyle's legendary detective. Though some wished the film focused more on the mysteries we're used to seeing in Sherlock Holmes stories, others commended star Millie Bobby Brown's portrayal of his sister. Fans and critics appreciated how the film focused on her experience as a young woman at the turn of the 20th century, and on some of the societal issues that often get overlooked in other Sherlock Holmes adaptations.
Those who watched Enola Holmes and wanted more could be in for some good news. When Decider asked Harry Bradbeer about the prospect of an Enola Holmes sequel, the director offered an optimistic outlook:
So it sounds like there's nothing concrete yet but that there definitely could be something in the works. Harry Bradbeer also told Decider that he believes there's a lot of lingering issues for the Holmes siblings -- including Sam Claflin's Mycroft, the eldest brother -- to still resolve. He said that in addition to exploring the family's dysfunctions, he'd also like to lean into historical accuracy and shine a light on some of the human rights issues that took place during that time period. In other words, it seems as though he has some idea of how to proceed if Netflix does give a sequel a green light.
If a new Enola Holmes film does come to fruition, it's not clear when that can happen -- as the cast have other Netflix commitments. Henry Cavill is working on the second season of The Witcher, with a third season likely. And while season five of Stranger Things isn't a sure thing, it seems pretty likely, which means Millie Bobby Brown could be pretty busy, too. If that's the case, when we meet Enola Holmes again, she may be a bit older, though there's surely still a range of stories and topics the film could cover.
Would you be down for another Enola Holmes movie? What would you like to see if Netflix decides to order a sequel? Let us know in the comments!
Your Daily Blend of Entertainment News
Thank you for signing up to CinemaBlend. You will receive a verification email shortly.
There was a problem. Please refresh the page and try again.