Stranger Things Creators Already Know When The Series Will End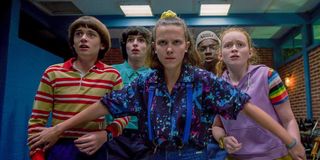 Stranger Things is still as popular as ever after three seasons. The show was renewed for a fourth season last year, but, considering that Stranger Things is a Netflix show, a lot of people wouldn't be surprised if Season 4 was announced to be the drama's last. But should viewers be poised to say goodbye to Hawkins so soon? Not so fast. As it turns out, Stranger Things creators The Duffer Brothers already know when the series will end, and it won't be with Season 4.
Whether we like it or not, all TV shows must come to an end at some point. However, The Duffer Brothers have some stories left to tell when it comes to Stranger Things. Viewers may be waiting a while longer to see Season 4, given production delays across Hollywood and elsewhere, but everyone can rest assured in the knowledge that the series creators aren't done with the characters or the mysterious plot just yet. Here's what Ross Duffer told THR:
It's important to note that Stranger Things has has not yet been renewed beyond Season 4, and there are no public confirmations that it will be. That said, The Duffer Brothers did sign a multi-year overall deal to develop films and other series at Netflix. Considering that the folks at the streaming giant want to continue working with The Duffer Brothers, my guess is that a Season 5 renewal seems like a safe bet.
The creators are already putting it out there that Season 4 "won't be the end," so it sounds like they've clearly mapped out what the story could be after that. Hopefully, fans will get to see their vision for the show through to whatever the end turns out to be. For now, only time will tell what the future holds for Stranger Things and its beloved characters, but Ross Duffer sure did sound confident about "when" the end would be.
Stranger Things wrapped Season 3 with a major cliffhanger that had viewers worried for Hopper, who sacrificed himself to save Hawkins in the season finale. Many speculated that he was "the American," a character who was referenced during the Season 3 finale's mid-credits scene. Luckily, Season 4 teaser revealed he was still alive.
As for Season 4, the Netflix series had already begun filming when production was shut down in March. Despite the delay, Stranger Things having to halt filming may have been a good thing, giving the writers the time to finish up the remainder of Season 4 scripts during the unexpected break. That said, The Duffer Brothers didn't offer a definitive answer on when filming would resume, so I suppose we'll have to wait some more before the cameras start rolling on the season again.
Stranger Things is currently available to stream on Netflix. While waiting for Season 4, be sure to check out our 2020 fall TV schedule for more viewing options.
Up next: Questions We Need Answered In Stranger Things Season 4
Your Daily Blend of Entertainment News