Henry Cavill Reveals How He Made His Version Of Sherlock So Different In Netflix's Enola Holmes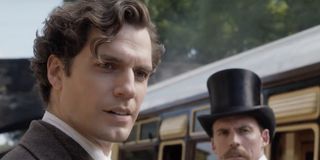 Sherlock Holmes is one of those characters we all just feel like we know, thanks to dozens of adaptations of Sir Arthur Conan Doyles' unforgettable series. Encountering him in a slightly different context on screen -- as a supporting character to his younger sister in Enola Holmes -- meant some careful consideration. According to Henry Cavill, his version of Sherlock Holmes was a lot different from what we're used to seeing, and not by accident.
Enola Holmes takes the Sherlock Holmes franchise in an entirely new direction, mostly focusing on the teenage sister of the legendary sleuth and the issues she faces as a young woman at the turn of the 20th century. It also offers plenty of interaction between her and siblings Mycroft (Sam Claflin) and Sherlock.
That meant director Harry Bradbeer had the challenge of showing Sherlock to fans through a somewhat different lens. Instead of being the primary focus, he interacts with the world in a way we're often not used to seeing. Henry Cavill told Access Hollywood that he thought very carefully about how to make his version of the iconic detective his own -- and it involved tapping into some pretty personal feelings:
The actor also revealed that coming up with the version of Sherlock we see on screen in Enola Holmes involved a bit of trial and error on set -- but one that was ultimately best for the character:
The effort that Henry Cavill and the Enola Holmes crew put into bringing Sherlock to life seems to have paid off. The Netflix film has received largely positive reviews from critics. While much of the praise has been focused on Millie Bobby Brown's performance as the titular heroine, others have pointed out Henry Cavill's nuanced performance as well.
What did you think of Henry Cavill's portrayal of Sherlock Holmes? Let us know in the comments!
Your Daily Blend of Entertainment News