Why Jennifer Lawrence And Co. Should Make Another Hunger Games Sequel, But Not Until After The Prequel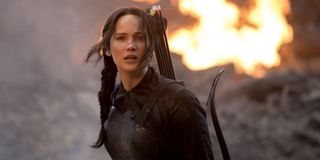 While The Hunger Games: Mockingjay Part 2 delivered an emotional and epic finale to a particularly strong YA movie series, I'm no longer convinced Katniss and Peeta's story should conclude on that beautiful meadow where they serenely frolic along with their two kids. Like the characters, I was initially at peace leaving the book closed there for five years – until Suzanne Collins decided to uproot my love for the series once again with her recent prequel novel The Ballad of Songbirds and Snakes. With that release, and a few recent comments on the subject from Josh Hutcherson, my attitude has changed.
We'll start off talking about the Josh Hutcherson of it all, since the Peeta actor has been talking a lot about Hunger Games in promotion of the films making their way for free on Tubi last month and has provided some interesting comments.
Josh Hutcherson's Idea For Where The Hunger Games Goes Next
Josh Hutcherson sounds really interested in going back to work as the baker's boy should he be given the chance. In a recent interview, the actor was asked about the possibility of returning to his most famous role, and he said he'd be in with "no question" provided some of the same people were involved. Additionally, he also revealed an intriguing idea that he and some of the cast "spitballed" back on set about the future of the franchise. In his words:
I gotta tell you, I've been thinking about what he says here and he's right. There's absolutely no way Katniss and Peeta stay on that peaceful meadow for the rest of their lives.
How The End Of Hunger Games Sets Up A Sequel
The final scene of the final Hunter Games film, with Katniss and Peeta raising their young children in the countryside, is a beautiful and bittersweet one, but not without loose ends that still need to be tied. We see this in Katniss' last line, as she says to her youngest child before the final credits roll,
Katniss leaves the Hunger Games happy and with a darn good emotional speech, but she's still very much broken and haunted by her teen years as a pawn in the games. And if Panem is to be a realistic world, politics like this don't just blow over. Before this blissful meadow sequence Katniss straight up murders President Coin, and she remains the most prominent figure in all of Panem. She's their Mockingjay. Katniss may enjoy peace on that field, but there's plenty of room for this series to continue in the future, and I hope it does.
The Hunger Games Prequel Does Not Relaunch The Franchise
The second half of this puzzle is Suzanne Collins' The Ballad of Songbird and Snakes (opens in new tab), which hit bookshelves earlier this year. Don't worry, no deep spoilers here – but if you're aware of the book you know the new novel follows President Snow as a teenager when he was a mentor to a District 12 tribute. The story is already in development to be a movie adaptation at Lionsgate with three-time director of the Hunger Games movies Francis Lawrence said to be at the helm.
Much like Revenge of the Sith did for Star Wars, this prequel adds a completely new perspective to President Snow, but it doesn't particularly give one the impression that it will continue into a completely new prequel series for the franchise. But I'd like to see more, and specifically from Katniss and Peeta's timeline. Once the The Ballad of Songbird and Snakes movie comes out (and here's hoping it turns out successful), it could prime fans to remember their love of the franchise and then want to move forward with the chapter that follows The Hunger Games: Mockingjay Part 2.
The Prequel Novel Is A Reminder Of Why The Franchise Deserves To Stick Around
The Ballad of Songbird and Snakes reminds us that nothing is quite what it seems in Panem, and its history is much more layered than the series of games and the rebellion that Katniss set off in Snow's later years. There's still a ton of questions left hanging about the world itself that a sequel could answer a lot clearer than another spinoff about a story set in the past.
The Hunger Games movies could set up the franchise's return 10 to 20 years in the future when Katniss and Peeta's kids are teenagers and old enough to serve as protagonists, and members of the original cast have gone on to do other things. But that's been done before! Katniss and Peeta could have a really interesting storyline waiting for them as young parents rather than repeating the generational sequel approach – not to mention that the franchise's deep themes about systems of oppression could be explored even further through a Hunger Games story told through the lens of more matured characters.
In other words, my love for the franchise is back, and although I'm excited and intrigued to see how The Ballad of Songbird and Snakes translates on film, fans are always going to go back to the original series and want to see the return of Jennifer Lawrence, Josh Hutcherson, Liam Hemsworth and friends.
What do you think? Are you interested in a follow-up to The Hunger Games: Mockingjay Part 2? Vote in our poll below and stay tuned here on CinemaBlend for more movies and TV news.
This poll is no longer available.
YA genre tribute. Horror May Queen. Word webslinger. All her writing should be read in Sarah Connor's Terminator 2 voice over.
Your Daily Blend of Entertainment News
Thank you for signing up to CinemaBlend. You will receive a verification email shortly.
There was a problem. Please refresh the page and try again.