Ryan Reynolds Drops All The F-Bombs To Convince Parents To Drink His Gin While Homeschooling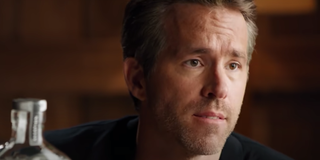 Ryan Reynolds has a knack for delivering a bit of levity when we need it most. That's been true in all of his movies, and it's true now for the countless parents who are currently homeschooling their kids due to COVID-19. He recently used a new commercial for his gin to let a few F-bombs fly while he made the case that a little alcohol may be the only remedy for these uncertain times.
While most of us know Ryan Reynolds from movies like Deadpool and Van Wilder, he is also a budding entrepreneur. Since 2018, he's held a stake in Aviation American Gin, a brand based out of Portland, Oregon. In the past couple of years, he's used the gin to do everything from troll his wife to humiliate his good friend Hugh Jackman. He has also spearheaded several clever commercials to help convince fans and alcohol connoisseurs alike to give it a try.
The most recent ad, released on his YouTube channel on September 24, sees the actor introducing Aviation Gin: Homeschool Edition in a (much) larger bottle than we're typically used to seeing. As Ryan Reynolds puts it, there's a reason they supersized their product:
He's right, though. Ryan Reynolds' commercial for Aviation is also definitely tapping right into the "frazzled parent who just realized they don't remember anything about geometry," which is definitely a growing niche in the American market. Basically, he knows his audience well. Take a look at the hilarious ad below (keeping in mind the language is definitely NSFW):
This isn't the first Aviation commercial that has spoken to the unique situation we've all found ourselves in since COVID-19 began to spread around the world. In May, he shared an ad the company filmed prior to the pandemic but repurposed to speak to the new trend of social distancing (and the need to keep bartenders afloat in hard times).
He also is not the first celebrity to speak, jokingly or otherwise, about the challenges that come from parenting in quarantine. His fellow MCU-er Chris Hemsworth was honest about his own struggle to help his children master new math. Dwayne Johnson cautioned fans about remaining vigilant after he and his own family tested positive for COVID-19. And Cameron Diaz has opened up about what it's like to care for a newborn in the midst of a pandemic.
Between jumbo bottles of gin and the ever-growing list of new kids movies available on streaming platforms, parents may just survive this strange time period with their sanity intact. Mostly. Hopefully.
Your Daily Blend of Entertainment News
Thank you for signing up to CinemaBlend. You will receive a verification email shortly.
There was a problem. Please refresh the page and try again.