Looks Like Ryan Reynolds Is Ready To Get Back To Work On Dwayne Johnson's Red Notice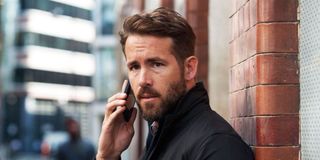 Hollywood has slowly been getting back to work following widespread shutdowns. That means actors are returning to film sets, albeit ones that look a bit different. Ryan Reynolds recently revealed that before he goes back to work alongside Dwayne Johnson for Netflix's Red Notice, he had to have a clean bill of health -- and he shared his experience with fans.
In March 2020, Red Notice shut down production, as the COVID-19 pandemic began to spread across the world. At the time, The Rock, who stars in and is co-producing the film, stressed the importance of keeping the cast and crew safe when he sent them home. In August, the actor announced Red Notice would resume production in mid-September -- and made it clear that Netflix would work hard to insure safety when everyone got back to the set.
While there aren't details as to the full extent of safety protocols, it looks like they're making sure that anyone who arrives back on set is COVID-19 free when they get there. Ryan Reynolds shared a series of images on Twitter documenting his expression before, during and after receiving a routine COVID-19 test. The lighthearted message he shared along with the photos stressed the ease of the process -- check out the tweet below:
The actor wasn't the first Red Notice star to share his experience with navigating the pandemic. The Rock also recently revealed that he and his family all tested positive for COVID-19 and reminded his social media followers to stay vigilant during the pandemic. Gal Gadot also shared a Twitter update with photos of her getting her own test and a sweet message to her fans asking them to stay safe.
These COVID-19 precautions are likely to become the norm as Hollywood gets back to work. Some movies, like Batman, went back into production, only to shut down again after a crew member tested positive. On film sets for movies like Jurassic World: Dominion, elaborate safety measures have been enacted, including routine virus screenings, to try to ward off a cluster of infections.
While it must be a huge undertaking, it's good to see thatHollywood is taking COVID-19 seriously. The pandemic has completely altered the film industry in a myriad of ways, from leading to widespread delays in production to changing how and when studios release films. It's unclear how long safety protocols will have to stay in plac, or how many will become commonplace even after the pandemic is no longer a serious threat.
Having A-listers like Ryan Reynolds, Gal Gadot, and The Rock share their experiences with getting a COVID-19 test is a helpful way to normalize staying safe during this unprecedented time period. It will also hopefully pave the way for the Red Notice cast and crew to finish production without further delay.
Your Daily Blend of Entertainment News
Thank you for signing up to CinemaBlend. You will receive a verification email shortly.
There was a problem. Please refresh the page and try again.