Cameron Diaz Reflects On What It's Like To Quarantine With A New Baby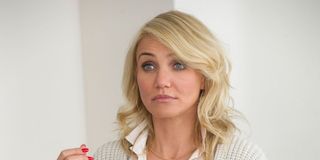 The recent quarantining hasn't been easy on anyone. However, it's posed an extra challenge for many parents -- including new moms like Cameron Diaz. The actress just got real about what it's been like to get used to having a baby at home during these unprecedented times.
Cameron Diaz gave birth to her daughter, Raddix, at the very end of 2019, and shared the happy news with fans in early January 2020. Just a couple of months later, the recent health crisis forced most of the world into some form of lockdown -- not exactly what anyone would hope for in their first few months as a new parent. It sounds like even Diaz and husband Benji Madden ended up having to make some big changes to how their day-to-day lives operated as a result, as she noted on Instagram.
Despite the unexpected craziness of raising a newborn during a pandemic, Cameron Diaz has tried to find a silver lining in the situation. That includes recognizing how lucky she and Benji Madden are to be able to spend so much time with their daughter:
With this little glimpse into her world, Cameron Diaz joined a whole host of other celebrities who've given us updates about their own experiences in quarantine in the past few months. Unlike some of her counterparts, who've lamented the fact that they've had to take a break from work, the actress hasn't taken on a movie role since 2014's Annie. She's alluded to the fact that she seems to be happy taking a step back from the spotlight. Still, it's good to hear she and her family are doing well, and have made the most of their time together.
Your Daily Blend of Entertainment News