How Chris Hemsworth Accidentally Hoarded Toilet Paper Ahead Of The Pandemic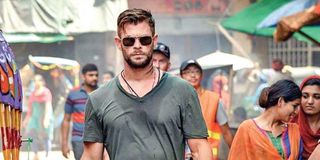 The coronavirus has created some unique situations for us all to manage. Some of us are fortunate enough that the biggest obstacles have been the need to self-quarantine for weeks on end, which has led to the need to find creative ways to pass the time. Others have found ourselves rationing essential supplies. While Chris Hemsworth can definitely relate to the latter issues, it looks like he's not having any problem keeping his house stocked with toilet paper, because he and his wife hoarded it before the pandemic even started.
Chris Hemsworth shared the strange story while videoing into Jimmy Kimmel Live! from his home in Australia. He told the talk show host that, compared to many other places in the world, Australia didn't have as extreme a lockdown situation. He also said he's relieved that they seem to have flattened their coronavirus curve. When Jimmy Kimmel asked if Aussies were also hoarding toilet paper, Chris Hemsworth admitted that his family was guilty of doing that -- albeit by accident:
If he wants to ship any of that TP stateside, we know a few million people who could probably use a roll or two. Chris Hemsworth also admitted that he shares the frustrations of many parents all over the world when Jimmy Kimmel asked if he and his wife are homeschooling their children. He said that it's been a challenge to convince his three children to try to keep up with their schoolwork and that it usually comes down to hours of negotiations just for them to do 20 minutes of work. He also lamented the fact that the way in which core subjects are taught has changed a lot since he was in school. In other words:
That is, to say the least, a mood, and there may be something mildly comforting to other parents that even Thor can't get his head around the "new" math. Chris Hemsworth is one of countless celebrities whose shared his coronavirus pandemic experience with the world -- he's not even the first to weigh in on the whole toilet paper situation. He's also one of many actors to open up. Some have risen to the occasion and actively worked to promote social distancing and encourage fans to be safe. Others have found themselves in hot water after taking a tone-deaf approach or downplaying the crisis.
Chris Hemsworth also found himself in a unique position during his conversation with Jimmy Kimmel. While the whole world is focused on the pandemic and what will happen next, some parts of life are still going on as planned -- and he had a movie to promote. Dozens of film releases have been pushed back since the world began social distancing but, since Extraction is a Netflix film, it's still able to hit our screens as planned. You can watch it on the streaming platform now.
Your Daily Blend of Entertainment News
Your Daily Blend of Entertainment News
Thank you for signing up to CinemaBlend. You will receive a verification email shortly.
There was a problem. Please refresh the page and try again.