Of Course Ryan Reynolds Had The Best Response To That Controversial Peloton Ad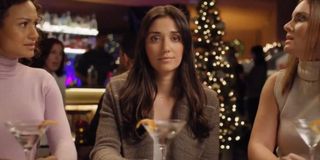 No one expected the Peloton exercise bike ad to go viral. Since its release, the commercial has been slammed for upholding gender stereotypes, among other things. While the actor who plays the Peloton husband was shocked by the "malicious" online reactions, it's Ryan Reynolds, who's had a string of good and bad movies, who had the best response to the controversial Peloton ad.
In the Peloton ad, a husband gifts his wife an exercise bike. Sounds simple enough, but the commercial changes and ends with the wife gifting him with a video of her using the bike (scared looks and all) a year later. Afterward, the ad received backlash for being sexist. However, Ryan Reynolds thought it would be a great idea to hire the Peloton ad wife to be in his company's commercial for Aviation Gin.
Ryan Reynolds tweeted a response, along with an ad of Aviation Gin featuring the Peloton actress, Monica Ruiz. You can watch the commercial below!
There's no doubt that the Aviation Gin commercial was a direct response to the Peloton exercise bike commercial. In the ad, the wife is sitting quietly in front of her alcoholic beverage and her friends tell her that she's "safe here" and that she "looks great." Did the Peloton wife leave her Peloton husband? It sure sounds like it.
Not doing so great is the actor who played the Peloton husband. Identified as Sean Hunter by Psychology Today, the actor and elementary school teacher shared with the publication how his life was affected by the minor commercial role. He gave a lengthy response about how his positive experience making the controversial ad turned into online backlash. Here's what he had to say about it:
Sean Hunter's co-star Monica Ruiz seems to be doing ok actually, thanks to Ryan Reynolds casting her in an entirely new ad sans husband. Reynolds was obviously promoting his own company while doing so, but at least viewers have a different commercial to focus on with the same actress. Call it a shared ad universe. You can watch the original Peloton ad below.
If you're looking for something else to watch besides exercise bike and gin commercials, be sure to check out our guide to what's new and returning to TV in the winter and spring of 2020.
Your Daily Blend of Entertainment News