Star Wars' Kelly Marie Tran Reflects On Her Decision To Quit Social Media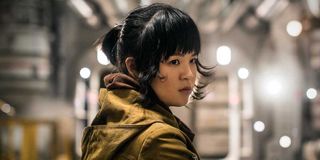 There's no denying the impact that social media has on our lives. While digital platforms give us a way to communicate with people all around the world, they can also become ground zero for some pretty negative behavior. That's something Star Wars star Kelly Marie Tran knows all too well -- in fact, the bullying she faced in the months after The Last Jedi was so extreme that she ended up leaving social media altogether. Now she's reflecting on that decision and offering advice for others on how to navigate the digital world.
In 2017, Kelly Marie Tran made history as the first Asian-American woman to star in a Star Wars movie. However, her character, Rose Tico, proved to be divisive for some fans of the franchise, and they aired their grievances on platforms like Instagram and Twitter -- often engaging with her directly to make their displeasure known.
The harassment took a toll on her mental health and eventually, led the actress to delete all of her social media accounts in 2018. The move prompted some of her Star Wars co-stars to speak up on her behalf and caution fans against toxic behavior.
Though stepping away from social media meant losing a way to interact with fans and promote her career, Kelly Marie Tran told Entertainment Tonight that doesn't regret her decision at all:
Kelly Marie Tran makes a good point - it's never a bad idea for anyone to take a step back and examine how they're interacting with the world, either online or IRL. If you find yourself engaging in a way that feels unhealthy, it is possible to limit your time on social media or stop using it entirely. It's good to know she hasn't had second thoughts about her own choice.
Despite her own lack of presence on social media, Kelly Marie Tran's fans still have her back online. When Rose Tico wound up with notably reduced screen time in The Rise of Skywalker, fans online were quick to call it out and demand better for the character. The backlash was enough to warrant a response from one of the film's writers -- and eventually Kelly Marie Tran herself.
These days, the actress has plenty to keep her busy. She is slated to star in Disney's Raya And The Last Dragon and will also appear in Hulu's upcoming anthology TV series, Monsterland.
Your Daily Blend of Entertainment News
Your Daily Blend of Entertainment News
Thank you for signing up to CinemaBlend. You will receive a verification email shortly.
There was a problem. Please refresh the page and try again.