Watchman Creator Alan Moore Has Some Blunt Thoughts About Superhero Movies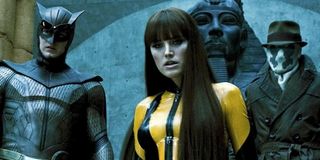 By this point, I think it's more than fair to say that we're living in the age of superhero movies. It's true that they've been around for decades, but the rise of massive franchises like the Marvel Cinematic Universe and the DC Extended Universe has given the genre true dominance at the box office and within the culture zeitgeist. Although many critics and moviegoers have mixed feelings about this, the movies are thriving and reaching mainstream audiences. But Watchmen scribe Alan Moore has some blunt thoughts about the films and their effects on pop culture.
The relatively reclusive Alan Moore doesn't speak out too often yet, when he does, it usually causes a stir. Recently, the veteran writer expressed his disdain for the fact that the public generally associates the comic book medium with big-budget films. He's also worried by the fact that many adults are consuming films that include characters that he believes are only meant to entertain children:
Mr. Moore certainly didn't hold back when speaking with Deadline. As alluded to, this isn't the first time the 66-year-old comics writer has called out superhero movies. Just last year, he referred to the impact of superheroes on the public as "both tremendously embarrassing and not a little worrying."
Moore's criticism of the genre even extends to his own work. When Zack Snyder adapted Watchmen for the big screen in 2009, Moore showed virtually no interest in the project. He would even go as far as to say that the film would be lackluster and shouldn't have been made in the first place. The writer expressed similar feelings for HBO's critically acclaimed Watchmen miniseries, leading the series' creator and writer, Damon Lindelof, to give a NSFW response.
No one can deny that superhero films are now embedded in the fabric of our culture and that many look to them as a source of entertainment and escapism. However, we've seen plenty of nuance within the genre over the past several years. Sure, they feature larger-than-life characters in colorful costumes that are sometimes invincible. But films like Captain America: The Winter Soldier, The Dark Knight and Black Panther prove that these movies can both entertain and stimulate by asking us to ponder questions about the world we live in.
Many fans probably won't agree with Alan More's sentiments, but just remember that his views shouldn't take away from what you enjoy. Just as he has his opinions, you have yours, and that's totally fine.
Keep it here at CinemaBlend for more from the world of movies and TV.
Your Daily Blend of Entertainment News
Covering superheroes, sci-fi, comedy, and almost anything else in film and TV. I eat more pizza than the Teenage Mutant Ninja Turtles.
Your Daily Blend of Entertainment News
Thank you for signing up to CinemaBlend. You will receive a verification email shortly.
There was a problem. Please refresh the page and try again.