Star Wars Book Clarifies Details About Snoke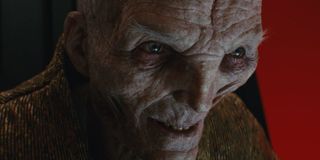 The Star Wars sequel trilogy ended with The Rise of Skywalker last year, but fans are still wondering about a number of unresolved details regarding certain story elements within the movies. For instance, coming out of the final installment, many wondered about what Finn wanted to tell Rey and how Lando Calrissian and Jannah were connected, among other things. One of the biggest points of contention, however, is the true origin of Supreme Leader Snoke, who was killed during the events of The Last Jedi. The Rise of Skywalker did seem to provide some context to his existence and, now, we have a bit more info on the mysterious figure.
When Kylo Ren arrives on the Sith planet Exegol in Star Wars: The Rise of Skywalker, fans can see giant tanks that appear to hold Snoke clones created by Emperor Palpatine. Well, The Star Wars Book confirms (via Twitter's Old Man Blinks) that this is indeed the case. According to the book, Snoke is "a strandcast -- an artificial genetic construct concocted by the resurrected Darth Sidious to be his proxy in power." It also points out that while Snoke does possess free will, his goals are ultimately controlled by Sidious.
Snoke's role in the franchise has proven to be one of the most controversial elements of this new wave of films. 2015's The Force Awakens introduced him as the elusive master of Kylo Ren, who was shaken by the coming of Rey. At the time, the internet was flooded with theories about Snoke's identity, with some believing that he was actually a famed Sith Lord from the Star Wars mythos.
All of this conjecture made it that much more shocking when Snoke met his demise in The Last Jedi. And while this development didn't sit very well with viewers, the revelation of his engineered origins was even more of a head-scratcher.
Other Star Wars books have attempted to shed light on Snoke's history before The Force Awakens. The Rise of Kylo Ren, a comic book limited series, recounted some of Snoke's earliest interactions with a young Ben Solo, before he was turned to the dark side of the Force. Still, even that series didn't answer a few key questions about Sidious' puppet ruler.
At this point, it would be helpful to see the creation and establishment of the Snoke that becomes Kylo Ren's teacher. Their first ever encounter could also make for an interesting story, but it remains to be seen if his story will be fleshed out any further.
There is still reason to be optimistic though, as Star Wars rarely strays from diving deep into a character's history outside of the films, whether it be through television or through literature. So don't be surprised if we get an opportunity to learn even more about Snoke at some point in the future.
For anyone aiming to reexamine Snoke's story, you can do so by streaming the Skywalker Saga now on Disney+.
Your Daily Blend of Entertainment News
Covering superheroes, sci-fi, comedy, and almost anything else in film and TV. I eat more pizza than the Teenage Mutant Ninja Turtles.
Your Daily Blend of Entertainment News
Thank you for signing up to CinemaBlend. You will receive a verification email shortly.
There was a problem. Please refresh the page and try again.