The Best Val Kilmer Movies, Ranked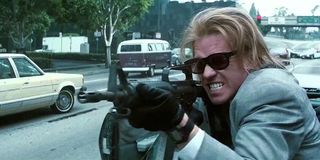 Val Kilmer is one of those rare actors with a unique charm, wit, and dedication to craft that sets him apart from the rest. Unlike most actors that find their way into one genre and make camp, Val Kilmer has a wildly nuanced filmography. From comedy to action to surreal drama, he's done a lot over the course of his career. With so many movies, it can be tough to pick the best Val Kilmer movies. But, it's without question that the 80s and 90s were his Imperial Phase. So, many of the movies on this list live in that era and helped narrow things down a bit. Let's dive in.
10. Batman Forever (1995)
Of the Batman movies, Val Kilmer tends to be the forgotten Batman. Which is a shame, because he does a fantastic job playing both Bruce Wayne and Batman in Batman Forever. He's thoughtful yet emotionally distant, strong yet internally fragile. Plus, he plays up the tortured soul part really well. Is Batman Forever a good film? Not really. It was surprisingly ahead of its time in some ways, but it's hard to look beyond the schlock. Batman Forever, though, is around the time when Val Kilmer was at his peak in fame and popularity. If you've never seen it before, it's worth watching just to see Val Kilmer do his thing.
9. Willow (1988)
In Willow, Val Kilmer plays the disgraced knight Madmartigan, a rogue that teams up with Willow to help him bring the baby Elora Danan to safety and fulfill a prophecy. Val Kilmer's Madmartigan is kind of like a Shakespearean Han Solo. He's cocky and brash but also wildly romantic to Romeo levels. He gives the movie its adventurous and swashbuckling charisma, something it desperately needs.
Willow has long been a beloved fantasy movie for the whole family and throughout the years has garnered tons of devoted fans. But, I'm not one of them. Willow has a tremendous amount of flaws that are hard to get over, including campy dialogue, acting, and a story that isn't all that interesting. So why did I put it on this list? Simply put, Val Kilmer is great in it and kind of makes the movie.
8. The Prince of Egypt (1998)
Released in 1998, The Prince of Egypt is practically now an animated classic. It's a retelling of the famous Bible story about the baby Moses being rescued by an Egyptian woman and growing up as a prince of Egypt who eventually goes into exile. Eventually, he returns to Egypt after speaking with God about rescuing his people, the Hebrews, from the Egyptians, who are keeping them as slaves.
From the fantastic animation to catchy songs to the talented cast, this movie doesn't get old. But, it's Val Kilmer that anchors it. After all, he does voice both Moses and God and does it with great aplomb. But, it's the way Val Kilmer's voice matures throughout the movie, from a cocky and arrogant prince to a humble and powerful prophet that elevates the character and the story.
7. The Ghost And The Darkness (1996)
This very well could be one of Val Kilmer's most underrated movies. About engineer John Henry Patterson, (Val Kilmer) tasked with getting the production of an African railroad back on track, things continue to go sideways as two man-eating lions hunt and kill the railroad workers, putting them further behind. So, John hires famed and skilled hunter Charles Remington (Michael Douglas) to help him hunt the lions and put a stop to their terror.
The Ghost and the Darkness is a slow-burn thriller that's somewhat similar to Jaws. As the lead, Val Kilmer is really able to shine, giving his character a lot of growth from a wealthy engineer wanting to improve the railroad to a hunter that becomes totally absorbed with killing the man-eating lions. I'll admit, though, once Michael Douglas comes on the scene, their dynamic and the adventure ratchets up to a whole new level. This is absolutely a must-watch for any Val Kilmer fan.
6. Top Gun (1986)
Directed by Tony Scott, Top Gun stars Tom Cruise and Val Kilmer and is about the best pilots in the US Navy training at an academy known as Top Gun. Val Kilmer plays Iceman, the main antagonist to Tom Cruise's Maverick. Iceman is cold, calculated, and doesn't put emotion into his flying, a huge contrast to Maverick. That plays off well in the movie with Iceman frequently getting on Maverick's reckless flying style.
Iceman catapulted Val Kilmer into stardom and is one of his most well-known roles. Fun fact: He originally didn't want to be in the film, but his agent pressured him into it. Val Kilmer plays the antagonist role perfectly with his intimidating stare downs, smarmy grins, and aggressive teeth clicks. It's a little disappointing how little he's actually in the film. But, Top Gun and Val Kilmer fans can rejoice as Iceman reportedly is returning to Top Gun: Maverick.
5. Heat (1995)
Written and directed by Michael Mann, Heat is a crime epic about thief Neil McCauley (Robert DeNiro) trying to escape the clutches of Lieutenant Vincent Hanna (Al Pacino). Val Kilmer plays McCauley's right-hand man Chris Shiherlis. The movie could very well be Mann's magnum opus, which is one reason it ended up on this list, but not the only reason.
Val Kilmer doesn't get the screen time he deserves in Heat. But when he does, it's fantastic. Unlike many of his other roles where he plays a cocky, witty, and a funny protagonist, in this, he plays a cold, calculated thief and killer. From his impressive shootout scenes to his dialogues with Robert De Niro, his performance is wildly under-appreciated and a must-see.
4. Real Genius (1985)
Real Genius was Val Kilmer's second movie with a starring role back in 1985. The young actor played Chris Knight, an irreverent teenage genius that's given the responsibility of mentoring a new, younger genius. So that he can graduate from the academy, Chris Knight is forced to solve a problem for his professor, but when he finds out his invention is going to be used as a weapon, he fights back.
Real Genius was written by Neal Israel, the same writer that did Police Academy and Bachelor Party. It has the same silly tone, sarcasm, and slapstick humor you might expect from the writer. But, it also has a lot of heart and Val Kilmer grabs the zany humor by reins and doesn't let go. It's Val Kilmer's charisma and his subtle transformation from apathetic teenager to geopolitical hero without skipping a beat that sells the story.
3. The Doors (1991)
Directed by Oliver Stone, The Doors is about Jim Morrison's (Val Kilmer) early life as a UCLA film student before eventually becoming the lead singer of The Doors, a superstar, and a pop culture icon. Eventually, Jim Morrison gets swallowed up by fame and unexpectedly died in Paris at the age of 27.
As a film, The Doors tries to swap back and forth between a historical account of the band and a psychedelic trip of Jim Morrison's increasingly deranged and disconnected mind. It's a poor history of the band and Jim Morrison, according to co-founder Ray Manzarek. But, fictional or not, it's a creative and compelling look at Jim Morrison. Val Kilmer nails it, too. He looks like the star, sings like the star, and plays the free spirit and self-destructive character almost perfectly. It's probably one of his most mature and nuanced roles in his filmography and worth the watch.
2. Tombstone (1993)
About famous wild west lawman Wyatt Earp retiring in the small town of Tombstone, Arizona, Tombstone was directed by George P. Cosmatos (though rumored to be secretly directed by Kurt Russell as well) and stars Kurt Russell as the famous lawman who befriends Doc Holliday (Val Kilmer), a gunslinger, gambler, and dentist that goes to the warm climate of Arizona due to tuberculosis.
Val Kilmer basically takes a method acting approach to his performance as Doc Holliday and it ages like a fine wine. In a way, Val Kilmer steals the show too, playing the confident, witty, sardonic, and deadly gunslinger like a pro. At times he's got a stone-cold temperament and has a few pretty brutal and uncomfortable scenes, including the showdown with Ringo. But, from his cup-slinging to the line "I'm your huckleberry," every scene, every line, every part he's in makes the movie so much better. It's hard to imagine the movie without him.
1. The Saint (1997)
I might get some flak for this, but I don't really care; The Saint rules. I've watched and enjoyed this movie too many times to count. The Saint is about a talented, international thief that goes by the name Simon Templar. He's hired by a Russian oil businessman to steal a formula for cold fusion but ends up falling in love with the scientist that invented it and, realizing what the Russian businessman will do with the formula, decides to turn against him, instead.
In my mind, The Saint is the perfect Val Kilmer movie. It has everything he's known for: Sarcasm, charm, charisma, wit, a tortured soul, action, and adventure. He looks like he's having so much fun in every scene and shows a great deal of range with the variety of eccentric personalities and accents. Admittedly, The Saint has a shaky script and a schmaltzy romance (maybe that's why they're remaking it), but at the end of the day, I think it's pure Val Kilmer.
There are so many other great Val Kilmer movies that didn't make it on this list. Again, he's done a lot of work over his long career that hasn't been covered here. These movies, though, exemplify the actor and covers the period of time when he was not only growing in his career but at the height of his fame. But, what is your favorite Val Kilmer movie? Let us know in the comments!
Your Daily Blend of Entertainment News
Thank you for signing up to CinemaBlend. You will receive a verification email shortly.
There was a problem. Please refresh the page and try again.