Ready Player Two: Everything We Know About Ernest Cline's Ready Player One Sequel Book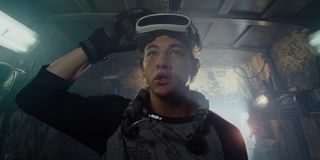 Who else is ready to return to the OASIS? We're nearly a month away from the release of Ernest Cline's latest novel, Ready Player Two, the much-anticipated sequel to the 2011 sci-fi novel Ready Player One. For years, details on the anticipated sequel were pretty impossible to come by, but now that the release is so close (November 24!), we know a few exciting things about the book, including the plot.
We're going off of the official description of the book for a couple of these, but there are some other interesting tidbits I've pulled together about the book's release as well. Also, this article contains a couple of big spoilers from Ready Player One, but if you haven't read the book yet, it's unlikely you're clamoring for details about the sequel. Still, if you've only seen the movie, I suggest turning back now and reading the original book, which plays out a bit differently though it gets to a similar conclusion.
There's A Game-Changing Technological Advancement For The OASIS
The synopsis for the book starts out by explaining that mere days after Wade Watts wins the hunt for the eggs and secures his place as the heir to the OASIS, he discovers "a technological advancement that will once again change the world and make the OASIS a thousand times more wondrous -- and addictive -- than even Wade dreamed possible."
This new technological advancement sounds amazing... or does it? The "and addictive" part gives me pause. At the end of Ready Player One, Halliday discourages Wade from hiding inside the OASIS forever. He considered that a lesson he learned too late in life. So maybe there's a reason he left this new piece of technology in the vault, rather than upgrading the OASIS before he died.
That brings us to the next bit of information we got from the description...
There's A New Quest Offering A Mysterious Prize
Along with the technological advancement found in the vault is a riddle with a new quest for Halliday's last Easter Egg, which hints at a mysterious prize. This is another great tease in the book's description, as we know Halliday's a quirky guy. It could be anything. Wade's avatar is already immortal and all-powerful as of the end of Ready Player One. What could possibly top that?
I'm also wondering if we're going to see all of Wade's quest for the final Easter Egg. It took Wade years to crack the first clue in the original hunt for the eggs. Will we dive straight into the hunt for this new prize in Ready Player Two? Or will the story move drastically forward in time after the introduction and pick up at a later point in his ownership of the OASIS, where he's still searching for Halliday's last Easter egg but also busy running things in cyberspace? We'll have to wait and see.
There's A New Rival In Town
The description also mentions a new rival, one who is "unexpected, impossibly powerful and dangerous." Who is this person and what is it that he wants? The obvious assumption would be the OASIS, but maybe there's more to his motives, as the description notes that he's willing to kill millions to get what he wants, and the fate of humanity hangs in the balance. With "two worlds at stake," it seems like a big step up in the danger department from the greedy and occasionally murderous Sorrento and IOI in Ready Player One.
Ready Player Two Appears To Be About The Same Length As Ready Player One
Moving beyond what we know about the story, let's look at some of the other details making the rounds. Penguin Random House has Ready Player Two's page count at 384, which is the exact same number of pages as Ready Player One's hardcover edition. So it's looking like the sequel will be the same length. The audiobooks actually differ slightly, assuming what's listed on Audible for Ready Player Two is the accurate length and not an estimation. Ready Player One's audiobook clocks in at 15 hours and 40 minutes, while Ready Player Two currently shows a length of 16 hours even.
Wil Wheaton Will Narrate The Ready Player Two Audiobook
If you're an audiobook listener, you may remember that Wil Wheaton narrated Ready Player One. According to what Ernest Cline told Wheaton at the New York Comic-Con panel earlier in October, Wheaton was the one and only person on his list of suggested narrators for the first audiobook. Cline said he was "just blown away" by Wheaton's past narration. The former Star Trek: The Next Generation star has provided narration for a number of audiobooks, including numerous John Scalzi novels, as well as Joe Hill's Full Throttle and an Audible exclusive edition of Andy Weir's The Martian. Wheaton is confirmed to return to the OASIS for the narration of Ready Player Two. The audiobook is expected to release on the same day as the hardcover.
Is Ready Player Two Going To Be Adapted To A Movie?
I wish I could include this as a thing we know about the book, but as of right now, it's unclear what -- if any -- the plans are to bring this followup to the big screen or whether or not Steven Spielberg is available or interested in returning to direct. Ready Player One earned nearly $583 million at the worldwide box office and reviews were largely positive among critics, with a Rotten Tomatoes score of 72%. While there's been no announcement about plans for a followup to the 2018 film, perhaps the arrival of the new book will stir up interest and we'll get some good news in the future.
And that's about all we know so far. But honestly, that's enough for me. As fun as it might be for Ernest Cline to drop some clues about some of the references we might find in Ready Player Two, part of the joy of reading the first one was the constant sprinkle of retro references throughout the book. It's going to be very exciting to see what's in store when Ready Player Two arrives on November 24, 2020. If you haven't already, pre-order it here (opens in new tab).
Your Daily Blend of Entertainment News
0
Assistant Managing Editor
Kelly joined CinemaBlend as a freelance TV news writer in 2006 and went on to serve as the site's TV Editor before moving over to other roles on the site. At present, she's an Assistant Managing Editor who spends much of her time brainstorming and editing feature content on the site.
Your Daily Blend of Entertainment News
Thank you for signing up to CinemaBlend. You will receive a verification email shortly.
There was a problem. Please refresh the page and try again.