Fantastic Beast 3's Jude Law Reveals What It Feels Like To Be A Part Of The Harry Potter Universe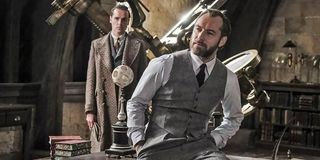 There are a handful of series that hold a unique reverence for fans around the world. Harry Potter is one of them -- so any time new content from J.K. Rowling's magical world gets released, it tends to grab attention. That's been especially true of the Fantastic Beasts franchise, which has become a topic of debate amongst Potterheads. Luckily, it seems that cast members like Jude Law are well aware of the importance of getting the stories from the Harry Potter universe right.
We first saw Jude Law as a younger version of Albus Dumbledore, albeit briefly, in Fantastic Beasts: The Crimes of Grindelwald. However, as news about Fantastic Beasts 3 has begun to emerge, it's become apparent that the third installment of the prequel series will more heavily feature the beloved wizard.
Jude Law traded thoughts about the Fantastic Beasts franchise with his co-star Dan Fogler, during a recent episode of The Dan Fogler 4D Xperience Podcast. During their conversation, he opened up about the range of emotions he feels about taking on one of the Harry Potter series' most beloved characters:
It sounds like Jude Law has been very thoughtful about how he's approaching his role in the Harry Potter universe, and that he has a good grasp on just how big of a deal it is to take over the role of Albus Dumbledore. It's a responsibility he seems to be taking very seriously -- he previously revealed that when he was preparing for his part in Fantastic Beasts: The Crimes of Grindelwald, he sought out guidance about Dumbledore from Harry Potter author J.K. Rowling.
Hopefully, all the secrets he learned about Hogwarts' headmaster will come in handy. Thus far, the overall response to the Fantastic Beasts series has been a bit mixed, and fans will likely be watching closely to see how Jude Law handles a more prominent role.
Fantastic Beasts 3 paused production due to COVID-19, but has since resumed. However, Johnny Depp's recent departure from the film and the need to recast his role, has resulted in a delay. The film is currently scheduled to hit theaters in summer 2022.
Your Daily Blend of Entertainment News
Thank you for signing up to CinemaBlend. You will receive a verification email shortly.
There was a problem. Please refresh the page and try again.