Borat 2 Standout Maria Bakalova Reveals Trick To Not Laughing At Sacha Baron Cohen When Filming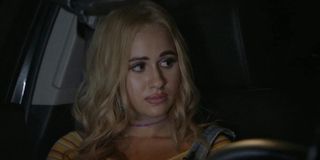 Sacha Baron Cohen is a standout comedy actor. Over his long career, he's become increasingly good at making people laugh with his unique characters, like Borat, Ali G and Brüno. Now imagine having to act alongside Cohen and try not to laugh at his antics. It would be incredibly hard. Thankfully for Borat 2 co-star Maria Bakalova, she learned a little trick to help her stop laughing and stay in character.
In Borat Subsequent Moviefilm, Maria Bakalova plays Tutar, Borat's naïve and impressionable teenage daughter. She was a total standout in the movie, having some wild scenes that proved both hilarious and controversial. But, how did Bakalova maintain her composure throughout all of it? It turns out, Sacha Baron Cohen taught her a quick trick to stop laughing. Here's what she said to The New York Times:
That's not a bad tip, and it must have worked for Maria Bakalova, because her performance in the film is impressive. She holds her own with Sacha Baron Cohen and then some. There's already been early buzz that she could earn a possible Oscar nomination for the role.
Considering the difficulty to stay in character on such a project, it's pretty surprising how well Maria Bakalova was up to the task, even when she wasn't with Sacha Baron Cohen. She had a handful of solo scenes (many of which were shocking) where she could have easily slipped out of character. But at least from what we were shown, she never did.
For a long stretch, Maria Bakalova's character was with a babysitter named Jeanise Jones. Bakalova had to pretend to believe in a much different worldview and Jeanise Jones, buying into it, does what she can to help her and change her perspective. Bakalova's commitment to the role is commendable; it could have been so easy to not be able to take herself seriously and start laughing, but she stayed in character. Which, as a side note, is also a little heartbreaking for Jones, who was duped by the performance.
Another impressive scene with Maria Bakalova wasn't even in the film. A deleted scene was shown online, featuring Maria Bakalova getting into the White House through the OAN Network, asking outlandish questions and meeting Donald Trump Jr. It's impossible to know how she was able to do this, but it certainly showed a continued commitment to the role. If you haven't seen Maria Bakalova's performance as Tutar, Borat Subsequent Moviefilm is available now on Amazon Prime.
Your Daily Blend of Entertainment News