Sacha Baron Cohen Gives More Thoughts On That Rudy Giuliani Scene In Borat 2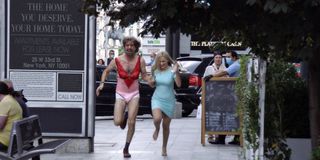 For anyone who's familiar with Sacha Baron Cohen's Borat Sagdiyev, you know he's usually good for two things: making people laugh and creating controversy. That's definitely been the case with his latest endeavor, Borat Subsequent Moviefilm, especially where a scene that features Rudy Giuiliani is concerned. Sacha Baron Cohen hasn't shied away from sharing what he thinks about the most-talked about moment in the film. But his thoughts on what fans should take away from that scene are a little surprising.
For those who haven't checked out Borat Subsequent Moviefilm, the controversial moment featuring Rudy Giuliani goes a little bit like this: the former New York City mayor sits down for an interview about Donald Trump with a young woman he assumes to be a reporter. In the film, she's actually Borat's 15-year-old daughter, Tutar, (in reality, she's actually 24-year-old actress Maria Bakalova). After some awkwardness, which includes everything from the pair sharing a drink and flirting to an intrusion from Borat disguised as a boom operator, the two retire to a hotel bedroom where Rudy Giuiliani can be seen laying down on the bed and putting his hands in his pants. Borat then storms in and informs the politician that his daughter is underage.
Rudy Giuliani has insisted that his behavior during the filming was completely appropriate. Sacha Baron Cohen has, for his part, made his own opinion on the matter clear on The Late Show with Stephen Colbert:
However, the actor and screenwriter also understands that everything is up for interpretation:
If nothing else, the moment between Rudy Giuiliani and Tutar has helped raise interest in Borat Subsequent Moviefilm. While there are other controversial moments in the film, including one that led to a lawsuit before the film was even released, the buzz generated by a scene featuring such a high profile politician is certainly noteworthy.
The commotion surrounding that sequence in particular may have caused Rudy Giuiliani a headache but, ultimately, it's especially good news for the filmmakers, given that Borat 2 was a costly endeavor. It was originally slated to hit theaters before the COVID pandemic made many studios shift their release strategies for this year.
Thus far, the sequel -- a follow-up to 2006's Borat:Cultural Learnings of America for Make Benefit Glorious Nation of Kazakhstan - has been met with generally positive reviews from critics, including CinemaBlend's own Eric Eisenberg, who gave the film four stars.
Have you watched Borat 2? What did you think? Let us know in the comments!
Your Daily Blend of Entertainment News