Why It's So Exciting Black Adam Will Celebrate Hawkman's African Origins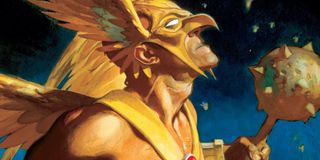 Hawkman's been around the DC Comics block for 80 years now, but he's only just now getting his theatrical debut. Following live-action appearances on TV shows like Smallville and Legends of Tomorrow, the superhero will appear on the big screen through Black Adam, with The Invisible Man's Aldis Hodge playing the DC Extended Universe's version of Carter Hall. Getting to play a superhero is a big deal for most actors, but Hodge is especially looking forward to playing Hawkman because of the character's historic ties to Africa.
During a recent conversation with THR, Aldis Hodge talked about how growing up, he hated learning about history in school because he knew what was being taught about his culture was "not right." He knew this because his mom was an educator keeping her children properly informed. Now that he gets to play Hawkman as an adult, Hodge finds the character's journey to figure out his purpose and correct people's understanding of the time period he originally hails from to be appealing. As Hodge put it:
For those unfamiliar with the Cater Hall iteration of Hawkman, he started out as Prince Khufu, who lived in ancient Egypt and discovered a crashed Thanagarian ship containing Nth metal, the substance that allows Hawkman to fly. Khufu and his consort Chay-Ara were killed by the jealous priest known as Hath-Set, but the couple's love allowed their souls to endure, resulting in them continuing to be reincarnated across many lifetimes. By the 1940s (or simply contemporary times, depending on the continuity) Khufu and Chay-Ara are living as Carter Hall and Shiera Sanders, and fighting crime as Hawkman and Hawkgirl, respectively.
Hawkman won't be accompanied by Hawkgirl in Black Adam, but Aldis Hodge's comments indicate that we are getting a relative faithful adaptation of the character, at least where his Egyptian roots are concerned. Hodge also said the following to say about why he appreciates Hawkman:
So in addition to following along with Hawkman in the present day, presumably we'll get a peek at his time as Prince Khufu. Beyond that, it's hard to say if we'll see any of Carter Hall's other past lives. Still, it's clear that Aldis Hodge is jazzed to be playing Hawkman, though when Dwayne Johnson, the man bringing Black Adam to life, called Hodge to tell him he's scored the role, the actor initially didn't believe it was actually The Rock on the other end of the call.
Hawkman is participating in Black Adam as part of the Justice Society of America, which is fitting since he was one of the superhero team's founding members in the comics. His teammates in the DCEU will include Atom Smasher (played by Noah Centineo), Doctor Fate and Cyclone. There have been rumors that the JSA's appearance in Black Adam might be used as a platform to launch a spinoff film series. Should that happen, and assuming Aldis Hodge is game to reprise Hawkman, that could provide more opportunities to look back at other incarnations of Khufu over the millennia.
Black Adam was previously scheduled to come out on December 22, 2021, but now it's been undated. Stay tuned to CinemaBlend for when the new release date and other Black Adam updates come in, and keep track of what else the DCEU has coming up with our DC movies guide.
Connoisseur of Marvel, DC, Star Wars, John Wick, MonsterVerse and Doctor Who lore. He's aware he looks like Harry Potter and Clark Kent.
Your Daily Blend of Entertainment News
Thank you for signing up to CinemaBlend. You will receive a verification email shortly.
There was a problem. Please refresh the page and try again.