Blumhouse's Freaky Ending Explained And How The Body Swap Magic Works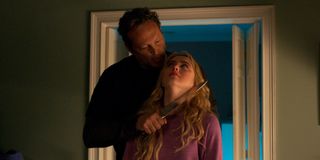 (Image credit: (Blumhouse))
Too many Friday the 13ths have been straight scare-fests for Jason Voohees' taking. This year there's a new killer character in town for the superstitious date for Blumhouse's horror comedy Freaky. The movie coming from Happy Death Day director, Christopher Landon brings a new twist to the slasher movie when Kathryn Newton's high schooler Millie accidentally swaps bodies with the Blissfield Butcher, played by Vince Vaughn. Can we talk about that Freaky ending?
We're going to get into all the bloody details that happened at the end of Freaky here, so if you have yet to see the new Blumhouse movie here's your spoiler warning! I highly recommend you check it out, it's a ton of fun! Just check out what critics are saying. We're going to talk about the body swap magic used in Freaky and speculate how the film could creak open the door for a slasher sequel. Let's jump in:
What Happened At The End Of Freaky
Freaky ends when the Blissfield Butcher and Millie finally collide just before the 24-hour window for the body swap is about to end, fating Millie to be in the body of a wanted murderer all her life while the serial killer hopes to take advantage of hiding in the shadows as a teenage girl. Millie in the body of Vince Vaughn and her friend Josh and Celeste retrieve the ancient knife from her sister's police precinct and use it on the Butcher in the body of Kathryn Newton as it happened before. At first, they think they are too late due to a watch being set a couple minutes early, but yay for punctuality!
Just following the body switch back to the right bodies, the police arrive and shoot the Blissfield Butcher dead… or so we think. We then meet Millie back in her home with her mom and sister, who are having a sweet evening together following a wacky 24 hours. Millie and her mom have a heart-to-heart about her going away to college, instead of her feeling the need to stay with her. After this the Blissfield Butcher returns to finish off Millie for a final stand off. She is able to defend herself with the help of her sister and mom, and she drives the leg of a chair into his chest, making him really dead this time.
How The Body Swap Magic Works
Freaky is set in motion during a murderous rampage for the Blissfield Butcher, who kills off a number of teenagers in the town where Kathryn Newton's Millie lives. While Millie is waiting to be picked up from school after a game as the school's beaver mascot, she has a confrontation with the Butcher, who pins her down and uses a mysterious ancient knife to stab her. This is the device which enacts the body swap magic for Freaky. Pair some nondescript Aztec magic with it all happening on Friday the 13th and voila – a body swap!
It's pretty classic for body swap movies to use some sort of unexplained old magic to set in motion the circumstance. Remember in Freaky Friday with Lindsay Lohan and Jamie Lee Curtis? Their swap happened thanks to fortune cookie magic at a Chinese restaurant set off by the owner of the restaurant. The Blissfield Butcher stole the knife from a glass case in the mansion in the beginning of the film. I imagine it as an artifact out of some form of archeological excavation that the Butcher accidentally came across. The movie leaves its origins to the imagination, such as if it only works on Friday the 13th or if that was a coincidence, so there's more freakiness the movie doesn't even go during its runtime.
The Open Wounds Freaky Left Us With
What's interesting about the ending of Freaky is the magic object that led to Millie and the Butcher to switch bodies is still around once the credits roll. The high schoolers do not think to destroy it, leaving the potential for more body swap fun. Not only that, there's a strange air of introduction and open-endedness about the end of Freaky that makes one believe that it could theoretically continue. Millie and her friends Celeste and Josh were a blast to watch hang out together, we'd easily spend more time with them… not to mention all the murders Millie technically committed?
How will Millie explain to everyone that it was not her? Even if she has an explanation, it doesn't mean everyone will accept it. And with kills, comes the possibility for revenge. Does the Blissfield Butcher have any connections who could be coming looking for him? What about the owner of the magical knife? There's more story here and the film's producer Jason Blum has already said he's "ready" to make a sequel to Inverse. There's a lot of body swap possibilities, but what about Vince Vaughn?
Could Vince Vaughn Return For A Sequel?
As it stands according to the end, the chances of Vince Vaughn returning if a sequel does come for Freaky feels unlikely. The Blissfield Butcher died twice, the last time with a stake through him… it would be redundant for a third helping. That is unless Vaughn's Butcher had a twin brother of some sort? I would not rule it out though, Christopher Landon did something wacky with Happy Death Day 2U, by having Tree be part of a time loop and parallel universe, allowing for more of the magic from the original to continue. There could be more to the magic of the knife we've yet to see. And, a Freaky sequel just wouldn't be the same without him.
Vince Vaughn is not one to make sequels though. During the actor's recent appearance on CinemaBlend's ReelBlend podcast, he said he's never really been into them for even his biggest comedies, because it has felt like he was just "chasing a success", though he is finally making a Wedding Crashers 2 with Owen Wilson. It sounds like there's some discussions around Freaky becoming a franchise, but what do you think? Following the ending, what's your opinion on Freaky? Vote in our poll below.
This poll is no longer available.
YA genre tribute. Horror May Queen. Word webslinger. All her writing should be read in Sarah Connor's Terminator 2 voice over.
Your Daily Blend of Entertainment News
Thank you for signing up to CinemaBlend. You will receive a verification email shortly.
There was a problem. Please refresh the page and try again.