Emma Stone's Easy A: 6 Things To Look Out For Next Time You Watch It On Netflix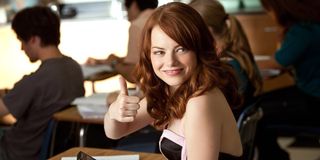 This year Easy A celebrated its tenth anniversary… and how can we forget this gem of a comedy? Emma Stone fake rocked our world! While the actress had been gaining recognition years prior with roles in Superbad, House Bunny and Zombieland, this is the movie that turned the actress into the true star and now Oscar-winner she is today. Easy A was made available on Netflix this month, so it's time to rewatch it of course.
What's refreshing about Easy A on another viewing is how thoughtful this movie is. It's not often that we get this many talking points about a high school comedy. But the filmmakers put a lot of thought into the details here. Let's talk about it:
There Was A Lot Of Thought Put Into The Easy A Names
Listen closely to the Penderghast family names, each of them is named after a food. There's of course Emma Stone's name, Olive, then her parents played by Stanley Tucci and Patricia Clarkson are Dill and Rosemary and their adopted son is named Chip. Olive also has an older brother no longer living at home called Kale. Yes, it's random but worth noting nonetheless. Along with this, there's more to Olive Penderghast as a full name as well. As the high schooler points out in the movie, her first name is an anagram for "I love." But, additionally her last name is also an anagram for "pretend shag," which is basically the plot of the movie.
There Are Hidden Oranges Everywhere
Lots of films have little easter eggs throughout for fans to look out for, but in the case of Will Gluck's comedy, he hid oranges. Because why not, I guess? Next time you watch Easy A look out for oranges, it's in the background of scenes a lot more than you probably realized. The director apparently tried to sneak as much of the citrus fruit as he could on set. You'll find them inconspicuously in places such as next to Olive in the cafeteria, in her home in a scene with her parents and in the most obvious fashion when Olive is in an orange grove with a "customer." The hidden-in-plain-sight oranges bit is apparently a tribute to the filming location of Easy A: Ojai, California.
So, So Many Scarlet Letter References
It's made obvious throughout Easy A that it is based on Nathaniel Hawthorne's the Scarlet Letter, which Olive is reading in her class just as she falsely confesses to having sex for the first time in the bathroom with her friend, leading to the whole school seeing her in a new light. Olive decides to take reference from the book by wearing an "A" on her chest, which stands for adultery in the book as she collects gift cards from men for spreading rumors about their fake sexual experiences. Olive gets into a lot about the book and movie adaptations specifically in the movie, but you may have missed a subtle moment when Olive is buying a movie ticket for Der Scharlachrote Buchstabe, which is actually the 1973 German movie adaptation of the book.
How Easy A Pays Tribute To Ferris Bueller's Day Off
During the runtime of Easy A, Emma Stone says that she wishes her high school experience was comparable to an '80s movie such as Sixteen Candles, The Breakfast Club, Say Anything or Ferris Bueller's Day Off. It's easy to spot the number of '80s references within the film because it's pretty cut and dry. The central movie Easy A references is Bueller, namely in two scenes in particular. At the beginning when Emma Stone is taking a shower, she forms her hair into a mohawk while singing "Pocketful of Sunshine" just like Matthew Broderick does in the opening of his own film. Additionally, Stone asks for "an awesome musical number" in reference to Bueller, which she gets in the form of her singing "Knock On Wood" in the school gym. Of course at the end, Penn Badgely's character watches her confession and checks all the other '80s references for her.
Will Gluck Also Followed In The Footsteps Of John Hughes On Set
The idea of Easy A being a spiritual John Hughes tribute also took place behind the scenes, that certainly gives the movie a feel you don't always see in movies anymore. Will Gluck decided to take note from Hughes and film the movie in real places – reportedly not a single film set was constructed for Easy A. He decided to film the movie specifically in Ojai, California because it's a suburb about an hour and half out from Los Angeles. Hughes would make his movies in the suburbs of Chicago to give it that hometown high school feel. This detail is yet another reference to Hughes, you might not have noticed but certainly enhances the quality of the film.
The 'High School Movie Age' Callout
One more aspect of Easy A to look out for next time you watch it is a little aside that occurs in regards to Twilight's Cam Gigandet. When the actor was cast in the movie right after his vampire role, he got flack for starring in a high school movie at the age of 28. Sure, Emma Stone was 22, Penn Badgley and Amanda Bynes were 24, but 28 is excessive. But the movie itself calls itself out and the high school movie genre as a whole by giving Gigandet a role as a 21-year-old who was held back in school. It's a funny little commentary on that one high school too-old-to-be-here actor that always seems to make it into coming of age movies.
Did you catch all these small details in Easy A in your rewatch? Along with these things to look out for, in my own rewatch, I definitely came to the conclusion that Easy A is kind of a perfect high school movie. The movie started the 2010's on a high note for the genre, along with kickstarting one of the most exciting acting careers of this generation. Easy A is available on Netflix now, check out what great movies are coming to the streaming service in December.
YA genre tribute. Horror May Queen. Word webslinger. All her writing should be read in Sarah Connor's Terminator 2 voice over.
Your Daily Blend of Entertainment News
Thank you for signing up to CinemaBlend. You will receive a verification email shortly.
There was a problem. Please refresh the page and try again.