9 Great Movies Coming To Netflix In December 2019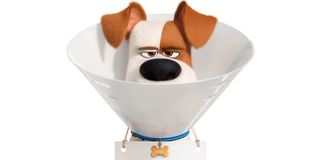 As the final month of new Netflix content in 2019 is upon us, we too must also look at the final frame of new and exciting movies headed to the platform's library in December. Next month, recent favorites and newly added classics will take the stage, making sure you get the most out of that subscription fee that Netflix HQ claims on a monthly basis. If you're curious about what else is coming next month, head over to the full rundown of December 2019's additions. Otherwise, it's time to get underway with the great movies coming to Netflix in that very month.
The Austin Powers Trilogy
Whether the Austin Powers trilogy has aged well or not is a debate that the world can have on its own stage. That's not what we're here to talk about today though, as the world of streaming knows where to find this international man of mystery in all three of his cinematic adventures. To be honest, that first entry still holds up the best, both as a movie and as a socially acceptable work of comedy. But no matter what, Dr. Evil will always remain one of the funniest villains this side of the ransom demand, without frickin' question.
Malcolm X
November brought Netflix audiences a challenging visual experience, as Martin Scorsese's The Irishman delivered three and a half hours of drama to the platform. And if your movie muscles are newly stretched out by sitting for an experience of such length, then Spike Lee's historical biopic Malcolm X could be your next extended play sitting in front of your streaming queue. Denzel Washington stars as the titular Civil Rights pioneer, in a film that details his struggles through life and his dedication to the cause of racial equality. It is as powerful as it is extensive, and if you've got an afternoon to give over to its entirety, Malcolm X is an experience not to be missed.
It Comes At Night
Writer/director Trey Edward Shults is currently having a pretty good year with his family drama Waves making a name for him in this year's lead-up to awards season. It's nt surprising, especially when you consider he's mined a very similar vein of material with his horror tinged drama It Comes At Night. While the film looks more like a straightforward scare fest on the outside, this ensemble piece is actually more adjacent to that genre, with the drama of a father trying to protect his family from a viral epidemic taking center stage. Whether this film scares you or not is up for discussion, but It Comes At Night will most certainly unsettle you.
Lawless
Another talent having a very good 2019 is Shia LaBeouf, as his acting in The Peanut Butter Falcon and Honey Boy have gotten rave reviews throughout this year. So if you're interested in getting more LeBeouf for your buck on Netflix, you're in luck come December, as period drama Lawless will be there to oblige. Based on the historical novel The Wettest County In The World, director John Hillcoat's film focuses on the Bondurant family, a trio of brothers involved in bootlegging moonshine in the Prohibition-era South. While LaBeouf and his co-star Tom Hardy may have gotten into some scraps during production, their family chemistry makes this star-studded picture work like a charm.
Goldeneye
Before we get started on talking about why Pierce Brosnan is way too hard on himself for his time as James Bond, we'd like to let you know that Goldeneye and the three other Brosnan-era Bond films will be on Netflix towards the end of December. Which is good, because if you've been hankering for some of the '90s' finest Bond action, but don't seem to have the right streaming library on hand to do so, you'll be in luck. And, of course, Goldeneye is one of the man's best turns in the role, as his cool and calm demeanor, mixed with a truly boyish grin and a deadly energy, helped revitalize this classic spy for future generations. Plus, this is the only James Bond film with Sean Bean in it, so surely this film gets points for that respect.
Tomorrow Never Dies
Here's where we get into underrated Pierce Brosnan territory, as most folks will tell you Goldeneye is the best, if not the only good James Bond movie in the man's four film run. However, a case can be made that Tomorrow Never Dies might be a better film in the canon, as Brosnan squaring off with Jonathan Pryce's deliciously evil Elliot Carver is something that puts this film on a path to greatness. Then again, no matter which film you argue is the best Pierce Brosnan outing as James Bond, it's 99% certain you won't be saying Die Another Day. But if you do, that's available on Netflix too, you monster.
The Secret Life Of Pets 2
What good is a streaming platform if they don't have anything for the kids to watch, especially during holiday break? Just when you thought all of the fun may have gone to another streaming service, in comes this summer's The Secret Life of Pets 2 to liven things up for your little ones. The continuing adventures of Max, Duke and their pals will be headed to a Netflix account near you soon enough, and just in time for you and your family to ring in the new year with this Universal/Illumination crowd pleaser.
As per usual, we have to warn you that all titles are subject to change and availability. So if there's something that looks missing, or not in its place, you should check the complete December 2019 rundown of Netflix titles to double check your work. Otherwise, we suggest you binge responsibly, and stream yourself into the new year with the fun and fantastic content in the month to come. We'll see you back here around the same time in December, as we take a peek at the presents 2020 will bring in its first month of operation.
This poll is no longer available.
Senior Movies Contributor
CinemaBlend's James Bond (expert). Also versed in Large Scale Aggressors, time travel, and Guillermo del Toro. He fights for The User.
Your Daily Blend of Entertainment News
Thank you for signing up to CinemaBlend. You will receive a verification email shortly.
There was a problem. Please refresh the page and try again.