Kurt Russell's Santa Vs. Mel Gibson's Santa: Who Is The Superior Santa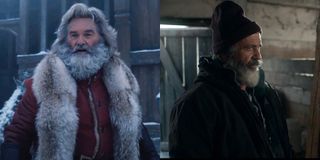 CinemaBlend participates in affiliate programs with various companies. We may earn a commission when you click on or make purchases via links.
Dear readers, it's time for a ho-ho-throwdown. With two brand new Santa adventures in the mix for this holiday season, it's time for Kurt Russell and Mel Gibson's versions of the man with the bag to square off. As The Christmas Chronicles 2 and Fatman are aimed at two different audiences, we've got two different versions of St. Nick to consider as we head into the yuletide. So naturally, we're gonna start asking questions about who'd win in a contest, and that's exactly what we're getting into today.
Putting these two holiday joy makers through their paces will require five separate criteria: wits, gifts, fists, the Mrs. (Claus), and elves. We'll go through each of those scenarios, and weigh whether Kurt Russell or Mel Gibson's Santa excel in that particular area. In the end, the ultimate winner being crowned "The Superior Santa Claus," with you the audience having a chance to cast your votes on the matter yourselves. But now, the gloves are off, and it's time to see whether Russell or Gibson is the Superior Santa Claus.
The Battle Of Wits
With The Christmas Chronicles' Santa, Russell talks a pretty big game, and in a pinch he can bust out a musical number to break himself out of trouble. But as seen in the first Christmas Chronicles movie, he couldn't talk his way out of trouble, and he ended up getting arrested and thrown in jail. He's a nice guy, but he has a hard time winning skeptics. Meanwhile, Fatman's Chris Cringle sees Mel Gibson literally talk a man out of cheating on his wife with a random bartender. And even though he's fallen short on his quota with the U.S. Government, the deal he negotiated himself was pretty sweet when it was at its best.
Who Wins The Battle Of Wits
While Kurt Russell and Mel Gibson's Santas wouldn't have trouble believing in one another, Gibson's powers of persuasion could potentially beat Russell in a showdown. Not to mention, something tells me that Chris Cringle wouldn't be won over by a musical number, whether he's got both eyes or not. Fatman's Chris wins this round, thanks to some pretty stern talking abilities.
The Battle Of Gifts
If you can't give gifts worth a candy cane, you're clearly not meant to be Santa. And both of our competitors have very different operations. In Fatman, Chris Cringle's setup at the North Pole is very tactile, and absolutely grounded. The elves build toys and parts, and Chris eventually delivers them in his sleigh. Though, for the most part, we only really see some of the building, and none of the deliveries. Meanwhile, The Christmas Chronicles Santa has an amazing workshop that can pretty much build anything. Not to mention, with a crack team of elves, and a TARDIS style magic sack, he can deliver good from the North Pole to anywhere in the world. Also, his sleigh is totally run by wormhole technology, which lets him move through the world in one night; provided he stays on schedule.
Who Wins The Battle Of Gifts
As mentioned in the Battle of Wits, Chris Cringle's operation has some problems fulfilling its government contract, which leads to some interesting subcontracting at the North Pole. Meanwhile, Santa in The Christmas Chronicles only ever has a problem when someone tries to hijack his operation, or accidentally throws things off just a little. Even in those contexts, Christmas endures, and Kurt Russell's Santa beats Mel Gibson's when taking into account the gift situation.
The Battle Of Fists
Talk is cheap, and gifts are relatively easy to make. But in the Battle of Fists, all you've got is Jack Johnson and Tom O'Leary to defend you. And this is a pretty damned one-sided fight when you get down to it, as Kurt Russell's Santa really doesn't fight. There's no need for him to scuffle with anyone physically, as he's a pretty family friendly guy; one of the perils of being The Christmas Chronicles' PG-rated Santa pinned against an R-rated madman. And boy, is Fatman's Chris Cringle adept at fighting an armed opponent, as we've seen in his battle with assassin Jonathan Miller.
Cringle knows how to use firearms and tactics to outwit his opponents, without question. Plus, even when he did suffer what looked like fatal injuries to his person (i.e. being stabbed through the chest by a leg mounted blade), Chris managed to live with only an eye sacrificed in the process.
Who Wins The Battle Of Fists
If it ever came to fisticuffs between Santa and Chris Cringle, Santa would surely be toast. With no real combat training, and his abilities to talk his way out of the fight more than likely failing, it might be a good idea for The Christmas Chronicles hero to just curl up and play dead. Fatman wins again in this round.
The Battle Of Mrs. (Claus)
To update and old, but familiar phrase, beside every great Santa is a Mrs. Claus able to help him see his way through trouble. Both The Christmas Chronicles and Fatman have fantastic female role models in the way of Mrs. Claus (Goldie Hawn) and Ruth Cringle (Marianne Jean-Baptiste.) And to be fair, this pair of fellow holiday figure heads are pretty similar in skill sets. Both know their way around baking cookies and keeping Santa in line when it comes to the battle of the day. However, while Ruth definitely has the advantage of being handy with a musket pistol, Mrs. Claus has a wide berth of knowledge in various fields of expertise. Plus, she can bake explosive cookies, which would help her evade capture; and could create some chemically infused delights to put anyone at ease, or even to sleep.
Who Wins The Battle Of Mrs. (Claus)
The Christmas Chronicles' Mrs. Claus is a vital component in the development of the North Pole system, and she's quite capable at devising countermeasures that can distract. While it's not likely that Ruth would take up arms against Mrs. Claus, and her opposite number wouldn't seek to harm her, Mrs. Claus has the slight edge in this battle. Though let's be honest, they'd both see their husbands fighting, and probably adjourn to swapping stories over cocoa and non-lethal cookies.
The Battle Of Elves
It all comes down to this: the elfish workforce at the two opposing North Pole operations! You could honestly run various scenarios pitting merely the elves of Fatman and The Christmas Chronicles against each other, as the possibilities are endless. But there are some limitations between the work forces of Santa and Chris Cringle, and that's where the advantage shows one particular side winning the battle, and the war.
Fatman has some pretty grounded elves that use their own two hands, and a sugar enriched metabolism to get the job done when it comes to building their gift load. Meanwhile, The Christmas Chronicles elves are akin to kindly Gremlins, as they can build pretty much anything, and their miniature size and numbers can overwhelm larger opponents. If Chris Cringle had these little Energizer elves in his workshop, Jonathan Miller would have been dispatched a bit easier.
Who Wins The Battle Of Elves
The Christmas Chronicles' elves win by a landslide. Again, their insane numbers and energy put them at a huge advantage, and even if they were just building gifts, the contest would be an open and shut case. One side can build anything from luxury cars to rooty toot toots and rummy tum tums; while the other is limited in their construction of toys and aircraft parts. And they who has the elves has the war at Christmas.
Who Is The Superior Santa Claus
In a 3-2 decision, verified by the betting firm of Elf Kings, the title of Superior Santa Claus goes to none other than Kurt Russell's Santa from The Christmas Chronicles. With both of their spouses staying out of the way, in a fight that probably wouldn't get that intense as Fatman's Chris Cringle wouldn't wail on an unarmed, unmatched opponent, Santa would probably neutralize Chris's operation. The two opponents would then more than likely trade cups of cocoa, and laugh about that time they actually did face off in the 1988 movie Tequila Sunrise. Of course, that's another story for another day.
So, with all of this holiday combat wrapped up, who do you think would win the battle for Superior Santa Claus bragging rights? Take our poll below, and let us know know know! And if you're looking for more game tapes to research this matter a bit further, you can watch both of The Christmas Chronicles on Netflix. Meanwhile, Fatman is currently available for purchase/rental on VOD and Digital HD.
This poll is no longer available.
CinemaBlend's James Bond (expert). Also versed in Large Scale Aggressors, time travel, and Guillermo del Toro. He fights for The User.
Your Daily Blend of Entertainment News
Thank you for signing up to CinemaBlend. You will receive a verification email shortly.
There was a problem. Please refresh the page and try again.