Mel Gibson's Fatman And 6 Other Unconventional Santa Claus Movies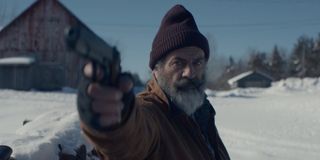 When you conjure up an image of Jolly Old Saint Nick inside your (egg)noggin, you probably don't imagine a bearded, snarling Mel Gibson wielding a gun with bloodlust in his eyes. Yet, that's exactly what we see in Fatman, the new seasonal action-thriller-dark comedy that hit VOD this past Tuesday. While the movie didn't warm the hearts of many critics nationwide, this unconventional Santa Claus flick does give audiences a fresh look at the familiar Father Christmas. Though it's certainly not the first time that we've gotten an original depiction of Old Man Christmas on the silver (or small) screen.
Whether it's Silent Night, Deadly Night or Bad Santa, we've seen our fair share of changes made to Santa Claus's familiar lore or family-friendly image. While not every change was made for the better, each one of these untraditional Christmas films is intriguing in its own right. And they stand out, too — even (or especially) in a season with no shortage of cinematic selections. If you're looking for something that's more naughty this holiday season, check out these out-of-the-ordinary Santa Claus movies.
Fatman (2020)
Mel Gibson as a weathered, R-rated Santa Claus protecting his life and livelihood from a vengeful mercenary (Walton Goggins) hired by a rich, not-at-all-nice 12-year-old boy (Chance Hurstfield) who wants him dead. That's the type of logline where you're either with it or you're not. If you're like me, you're sold instantly. If you're asking, say, logistical questions, you might want to hold off on these crudely entertaining festivities.
About as dry and bitter as an off-brand seasonal IPA, Fatman may be an acquired taste. But if you're in the right jolly mood, it'll bring lots of holiday cheer for the adults. Benefitted enormously by a talented ensemble committed wholly to playing this goofy premise straight, without too many cutesy or winking moments, this darkly amusing lark from Eshom and Ian Nelms is a peculiar delight, one that's refreshingly refrained in its approach. While the tone's uneven, some subplots involving the elves become short-sighted, the visuals are sometimes too drab, and it overstays its welcome a bit, Fatman is a rollicking good time from start-to-finish. It's unsuspectedly sweet at times, too.
Rare Exports: A Christmas Tale (2010)
Filled with deadpan comedy and genuine menace, Rare Exports: A Christmas Tale is a chilling horror-comedy holiday fable, one that's both well-crafted and surprisingly unsettling. Admittedly, the premise itself, which follows a drilling company that unlocks the tomb of an ancient, evil version of Santa Claus and the boy who must fight for his life when this deranged version of the holiday gift-gifter starts hunting for blood, is entirely (and openly) silly. But it's to the credit of writer-director Jalmari Helander that the storytelling is inspired and inventive, finding a lot of mileage out of such an absurd concept.
In addition to its commendable craftsmanship and its intriguing mythos, Rare Exports' true heart lies in its strong performances and its underlying emotional sincerity. While the premise is winking in its dry wackiness, the core foundation is surprisingly involving and the irony doesn't overshadow its earnest desire to create engaging characters in the midst of its strangely original take on Santa's lore. If you're tired of the same ole' Santa Claus stories, unwrap this deranged export.
Bad Santa (2003)
There's no doubt that this Santa is much more naughty than nice. Indeed, this highly irreverent, gleefully crass dark romp might not seem sustainable for a feature-length film, but it's to the immense credit of screenwriters Glenn Ficarra & John Requa, director Terry Zwigoff, overseeing executive producers Joel & Ethan Coen, and its ensemble, led by Billy Bob Thornton, that Bad Santa is a bundle of filthy laughs instead of a bunch of coal.
Where other movies in this vein fail, like Bad Teacher, and Bad Santa succeeds is recognizing how to make the world feel authentic while also being uproariously funny. It's one thing to have an alcoholic dressed as Santa slinging insults. It's another to develop him as a well-rounded character who also happens to be a mean-spirited mall Santa. Through Thornton's immersive performance, he took what could've been a throwaway role and turned it into one of his finest performances. While the lackluster sequel was a forgettable misfire, it makes you appreciate the first movie more. Indeed, Bad Santa is damn good stuff.
Christmas Evil (1980)
Originally titled You Better Watch Out, Christmas Evil is one of the earliest installments in the "killer Santa Claus" horror genre, and it's considered one of the best of the bunch to boot. Following the wayward perspective of Harry Stadling (Brandon Maggart) a disturbed, traumatized adolescent man who harbors an obsession with Santa Claus, we watch this deranged individual assume the role of Kris Kringle to punish a bunch of misbehaving adults who forgot the meaning of the season. It's certainly a twisted premise for a Christmas movie, but this exploitation slasher is elevated by its sharp filmmaking from writer-director Lewis Jackson and Maggart's unsettling lead performance.
Following its quiet theatrical release, Christmas Evil eventually gained a cult following, particularly with provocateur filmmaker John Waters being one of its biggest champions. His enthusiasm for this perversely fascinating Christmas movie, in particular, helped it find an audience in the years to follow. It's not flawless, but it's a great concept, one that's maybe worth pursuing in a modernized remake (maybe don't tell John that).
Santa Claus (1959)
Have you ever wanted to see Santa Claus fight The Devil? Outside of maybe an early episode of South Park, such a concept would've seemed utterly ludicrous to most movie producers. Yet, for Mexican filmmaker Rene Cardona, that was the story he wanted to tell with the jolly red-suited St. Nicolas. Oh, and did we mention that St. Nick lives in outer space? These are only a couple of the strange sights you'll see in this 1959 oddity. While the movie's intentions seem sincere, its execution — or, at least, its presentation in its mocked English-language dub — leaves something to be desired.
Made infamous by an early Mystery Science Theater 3000 episode, Santa Claus (also known as Santa Claus vs. The Devil) is far from a traditional family classic. But if you love to riff on less-than-great Christmas movies, especially after a few drinks, this is an entertaining way to bring some extra jolly into your holiday season.
Santa Claus Conquers The Martians (1964)
Speaking of Mystery Science Theater 3000, one of the most infamous Christmas movies in history is 1964's Santa Claus Conquers the Martians.
While it has the distinction of being the first documented appearance of Mrs. Claus in a motion picture, with Doris Rich adopting this role, every other noteworthy achievement has been in scorn. On IMDb, it's regularly featured in the Bottom 100 list. Currently, it sits at #40. And the movie became a fascinating slice of pop culture through MST3K's popular mocking back in the 1990s. That episode has been a frequent favorite on Comedy Central, and it helped this ill-fated movie find an audience at the turn of a new century. While this Christmas clunker won't ever be considered a traditional Christmas classic, this strange tale of Santa Claus who gets kidnapped by Martians to inspire good cheer is a curious misfire that continues to fascinate audiences young and old.
Silent Night, Deadly Night (1984)
In a similar vein to Christmas Evil, Silent Night, Deadly Night doesn't follow the good-natured gift-giver but rather a murderous adolescent man who adopts the red suit to go on a killing spree in response to the continued trauma sparked from witnessing his parents' murder on Christmas Eve. But where Christmas Evil became a niche favorite, Silent Night, Deadly Night did find a following, resulting in a horror franchise and, later, a loose remake in 2012. While it's not as critically-acclaimed, this seasonal slasher made a killing at the box office, grossing $2.5 million from its slim $750,000 budget.
In addition to all these titles, there are a couple more worth mentioning. For instance, The Santa Clause, while not necessarily unconventional, did have an original look at the origins of a new Santa Claus, and the Disney movie resulted in a Christmas trilogy for Tim Allen. Additionally, Fred Claus gave us an unusual look at the family dynamic in Santa's life, notably with a disgruntled younger brother, played by Vince Vaughn. While the premise was solid, the execution was ultimately lackluster and forgettable. And, along with the other killer Santa movies, there's also 2005's horror-comedy Santa's Slay.
Outside of movies, there's The Twilight Zone's "Night of the Meek," which gave us a peculiar new look at Santa Claus. If you're looking for something shorter to watch than the films we listed, that episode is a classic. But what are your favorite unconventional Santa Claus movies? Let us know in the comments below!
Your Daily Blend of Entertainment News
Will is an entertainment writer based in Pittsburgh, PA. His writing can also be found in The Playlist, Cut Print Film, We Got This Covered, The Young Folks, Slate and other outlets. He also co-hosts the weekly film/TV podcast Cinemaholics with Jon Negroni and he likes to think he's a professional Garfield enthusiast.