Sound Of Metal: Breaking Down Riz Ahmed's Band Shirts In The Movie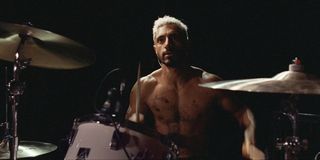 Darius Marder's 2020 drama Sound of Metal is getting a great deal of praise as of late, and it's not just because of the movie's gripping story about a drummer in a metal two-piece coming to terms with his sudden and unexplained hearing loss. The director and cast, which is led by Riz Ahmed, Olivia Cooke, and Paul Raci, provide great representation of the deaf and underground music communities with a level of detail and care that is rarely seen in a major motion picture.
CinemaBlend has previously covered the movie's portrayal of deaf people and how the film's leads prepared for those early musical performances, but another thing I noticed on a recent watch was the great band tee shirts worn throughout.
As someone who grew up in the punk and hardcore scene of my hometown where I performed in clubs on the wrong side of the tracks, booked house shows for traveling bands, and really found myself in a group of misfits and outcasts, seeing shirts from bands like Youth of Today and Rudimentary Peni brought back a ton of memories. And since not everyone may be familiar with the different shirts worn by Riz Ahmed (and one by Olivia Cooke) in Sound of Metal, I thought I would explain the bands, the history, and how they fit into the movie. With that in mind, spoilers ahead if you haven't seen the movie yet!
Youth Of Today Hoodie - Worn When It's Revealed Ruben Is A Recovering Addict
One of the most prominent articles of clothing in Sound of Metal is the classic Youth of Today "Positive Outlook" hooded sweatshirt just hours after the drummer loses his hearing and right as the audience learns that he is a recovering addict. This is quite ironic considering the fact that the band and iconography on the front of the shirt (a hand with a bold "X" for straight edge). Youth of Today is one of the hardcore community's most notable and vocal straight edge (refrain from drugs and alcohol) and vegan bands dating back to the band's 1985 formation in Danbury, Connecticut. To find out that Ruben is not only dealing with his sudden hearing loss but also battling addiction issues (he's clean at this point in the story), gives the placement of the iconic hoodie more weight.
If given the chance, I would love to ask director Darius Marden if this was an intentional choice or just happenstance. Something else that caught my attention (though it most likely has nothing to do with the movie) was Ruben's dyed blonde hair. Youth of Today and other "Youth Crew" bands in the New York Hardcore scene in the '80s and '90s often dyed their hair blonde and helped start a trend that is still seen in the punk and hardcore scene all these years later. If you didn't know any better and just saw a screenshot of Riz Ahmed, you'd think he was just some hardcore kid grabbing a post-show meal with that blonde hair and Youth of Today hoodie.
Rudimentary Peni Shirt When Ruben First Meets Joe
Another piece of band merch seen throughout Sound of Metal is Ruben's Rudimentary Peni shirt that is being worn during one of the most pivotal scenes in the entire movie: the recently deaf drummer's first meeting with Paul Raci's Joe at the rural deaf community where he can get the help he needs. This shirt is quite fitting, not only for Ruben's character in his moment of crisis but also his feelings during that first fateful meeting that will forever change his life, especially considering the history and legacy of Rudimentary Peni.
For those not well-versed on British anarcho-punk bands from the 1980s, Rudimentary Peni is an abrasive, macabre, and witty band led by guitarist and lyricist Nick Blinko, who for the past 40 years, has helped shape the worlds of punk, hardcore, and even metal with his semi-autobiographical lyrics dealing with everything from sociopolitical issues in England and abroad as well as Blinko's psychological issues throughout his life, including being diagnosed with schizoaffective disorder. The shirt that Ruben is wearing in this scene (and others later on) is taken from Rudiemtnary Peni's second album, 1988's Cacophony, which features artwork drawn by Blinko.
GISM Shirt When Ruben Volunteers In Diane's Class
Another band shirt that shows up on more than one occasion in Sound of Metal is the variation of the GISM "Punks Is Hippies" shirt that has been printed and reprinted more times than anyone can count at this point. Ruben is seen wearing the ratty, sleeveless shirt featuring one of the pioneers of the Japanese punk and hardcore scene in quite a few scenes, but one of the most memorable is when he first starts volunteering in Diane's (Lauren Ridloff) class for deaf students. There's a stark contrast between the well-mannered students in their school uniforms and the disheveled drummer at a moment of crisis wearing a pair of combat boots, torn jeans, and an old shirt that has either turned brown or washed with bleach to give it that distressed and worn out look.
Since forming in Tokyo in 1981, GISM (which stands for everything from Guerrilla Incendiary Sabotage Mutineer to God In The Schizoid Mind to Grand Imperialism Social Murder), has become and remained one of the most influential and controversial bands in the international punk, hardcore, and metal scenes. The band originally went on a hiatus in 2002, but got back together in 2016 for a show in the Netherlands, which also happened to be GISM's first show outside of Japan.
Einstrürzende Neubauten Shirt When Ruben Prepares For Surgery
One of the lesser known bands to have a shirt featured in Sound of Metal is the German experimental musical group Einstrürzende Neubauten (Collapsing New Builds), which has been a fixture of the industrial and noise genres since forming in West Berlin in 1980. Known for composing unconventional musical soundscapes with custom-built instruments mostly made from scrap metal and tools, Einstrürzende Neubauten makes total sense here, considering what is happening to Ruben at this point in the movie.
We first see Ruben wearing the Einstrürzende Neubauten shirt (with the band's logo based on a prehistoric cave drawing) while he considers undergoing surgery for cochlear implants (which create a metallic, distorted, and unnatural sound), which again is a great way of describing the band's music. I don't know if this was intentional choice by director Darius Marder, but it's a great use of foreshadowing if that is the case.
Motörhead Shirt When Lou Sends Ruben Off To Therapy
The final band tee shirt on this Sound of Metal list isn't worn by Ruben, but instead is seen on Olivia Cooke's Lou when she decides that her boyfriend and bandmate needs to undergo therapy to come to terms with his deafness. At first, it's hard to make out what band this is, but upon close inspection (and making my wife question me as to why I kept pausing the movie), this is an Arabic version of the iconic Motörhead "England" shirt. There have been a ton of variations of this classic shirt over the years, but this is the first time I've seen one with the band name in Arabic but the "England" text still in English.
I don't know if the shirt holds a higher meaning or not, but it is a nice homage to one of the most influential bands of all time, and couldn't come at a better time considering this month marks five years since the band's ending following the December 2015 death of its bassist, singer, and cultural icon, Ian "Lemmy" Kilmister.
These aren't all the shirts featured throughout Sound of Metal, so make sure to sound off in the comments if you have information on ones that I missed.
Your Daily Blend of Entertainment News
Philip grew up in Louisiana (not New Orleans) before moving to St. Louis after graduating from Louisiana State University-Shreveport. When he's not writing about movies or television, Philip can be found being chased by his three kids, telling his dogs to stop yelling at the mailman, or yelling about professional wrestling to his wife. If the stars properly align, he will talk about For Love Of The Game being the best baseball movie of all time.
Your Daily Blend of Entertainment News
Thank you for signing up to CinemaBlend. You will receive a verification email shortly.
There was a problem. Please refresh the page and try again.