How Angelina Jolie And More Could Get Roped Into Johnny Depp And Amber Heard's High-Profile Court Case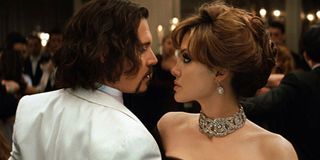 Though Johnny Depp suffered a loss in court recently, he and Amber Heard's upcoming court case is still moving forward. As new back and forth occurs in the Virginia-based case, a new report has indicated that a slew of Depp's alleged exes--including the likes of Angelina Jolie--may ultimately be roped into this new case.
As part of a larger piece on Johnny Depp's life, career and former relationship with Amber Heard, THR discussed the upcoming court case featuring the Pirates of the Caribbean and Aquaman stars. According to the outlet, Depp's exes may be asked to turn over any communications to the court, including things like text message. Specifically mentioned are some names that may not have been formerly tied to Depp in a romantic way, including Angelina Jolie, Marion Cotillard and his former Disney co-star Keira Knightley.
The piece refers to these women as Johnny Depp's "exes." If accurate, that would seemingly confirm that Depp had relations of some sort with Angelina Jolie, Marion Cotillard and Keira Knightley. None of them have publicly confirmed this in the past, but Depp starred with Jolie in the famous domestic flop (that broke bigger internationally) The Tourist back in 2010. He and Keira Knightley appeared in a slew of Pirates films together, including 2017's Dead Men Tell No Tales. Finally, Depp appeared with Cotillard in Public Enemies in 2008, around the time he was still with Vanessa Paradis.
Neither the leading ladies in question nor Johnny Depp has publicly said anything about possible romances, though Johnny Depp did reveal he has respect for Angelina Jolie. In an interview with Reel Rave, he called Jolie "this perfect beauty" and "a poem" while talking about their work together on The Tourist. He also referred to Jolie as "great fun," so it seems like the pair at least grew to know one another fairly well. Jolie would have been married to Brad Pitt during this time.
If accurate, this wouldn't be the first time some of Johnny Depp's exes outside of Amber Heard were also a part of one of these high-profile court cases. In fact, his known exes Vanessa Paradis and Ellen Barkin are also mentioned on the longer list of alleged exes here and were actually already a part of Johnny Depp's former libel case in the U.K. Paradis spoke out on Depp's behalf; Barkin accused him of throwing a wine bottle. As part of the case, some of his other co-stars have also come in too, including Winona Ryder, Salma Hayek and Javier Bardem, who lent court support.
While some of his former co-stars and exes volunteered information, others have become involved in the varying court cases in different ways. In fact, Johnny Depp's two high-profile court cases have played out very publicly over the last several months and have roped in a slew of additional famous names, including but not limited to Channing Tatum, Elon Musk and even Paul Bettany. As this new court case starts to really get moving, it's unlikely this will be the last of the famous names we hear getting roped in either.
Though Amber Heard already testified in the first court case, this second case will more specifically involve the star, who was married to Johnny Depp between 2015 and 2017. She since alleged in an op ed that she had been abused in a relationship. Though she didn't name Depp specifically, the actor is suing her for $50 million saying her words tarnished his career. Amber Heard is also countersuing. During the libel case, which Depp lost to The Sun, both shared different versions of stories including a hand injury and poo in their marital bed.
Angelina Jolie is also currently working through the courts as she and Brad Pitt resolve their custody battle following their bifurcated divorce. For his part, Johnny Depp had previously asked to wait to be deposed while filming Fantastic Beasts 3 for the upcoming court case, but he was recently asked to step back from that movie. The court case is expected to head to trial in the early part of 2021.
Amazing Race & Top Chef superfan with a pinch of Disney fairy dust thrown in. If you've created a rom-com I've probably watched it.
Your Daily Blend of Entertainment News
Thank you for signing up to CinemaBlend. You will receive a verification email shortly.
There was a problem. Please refresh the page and try again.