Johnny Depp Allegedly Cut Off His Finger, Accused Amber Heard Of Cheating On Set Of London Fields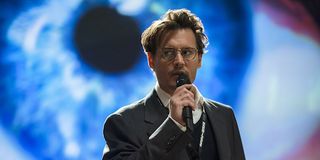 Amber Heard has insisted that Johnny Depp accidentally cut off the tip of his own finger while in a fit of rage after accusing his wife of cheating on him with Billy Bob Thornton while on the set of the thriller London Fields.
TMZ have acquired a photo that Amber Heard and her lawyers plan to use against Johnny Depp in their lawsuit with the actor. You can head over to TMZ to check out an image of Johnny Depp's deeply severed finger by clicking here. Please be forewarned that it's horrifically graphic and upsetting to look at.
It's been reported that this incident occurred in March 2015, when Amber Heard and Johnny Depp were in a villa in Australia, just one month after the couple had married. Amber Heard has alleged that Johnny Depp was both drunk and high on ecstasy at the time of the argument, which as it became more animated and ferocious resulted in the Pirates Of The Caribbean actor smashing several bottles that were dotted around the abode, as well as some windows, and even obliterating a plastic phone against a wall. During this commotion, a piece of one of these items sliced off a huge portion of Johnny Depp's fingers.
According to Amber Heard, Johnny Depp didn't immediately seek medical attention, though. Instead he dipped the remaining stump of his forefinger into a can of dark blue paint that she was using for her work, and then smeared the words "Billy Bob" and "Easy Amber" on a mirror. Heard has alleged that Depp repeatedly accused her of extra-marital affairs throughout their 15-month marriage.
Amber Heard's team also revealed that it took nearly 24 hours for Johnny Depp to seek medical help for the gnarly injury. At this point, doctors were unable to put the tip of Johnny Depp's finger back where it belonged, so they instead used skin from his hand to create a new tip to his ravaged finger. The "Billy Bob" that Depp is allegedly referring to is likely to be Billy Bob Thornton, who filmed London Fields with Amber Heard, a film that is scheduled to be released at some point in 2016. However, that seems unlikely because neither a confirmed release date nor a trailer has been released for the film, which also stars Jim Strugess, Theo James, Cara Delevingne, Jason Isaacs, Jaimie Alexander and Johnny Depp himself.
London Fields revolves around Billy Bob Thornton's Samson Young, who is a terminally ill writer that has suffered from writer's block for 20 years. London Fields was written by Robert Hanley from lauded novelist Martin Amis' 1989 book, and Matthew Cullen made his feature film debut as its director, replacing David Cronenberg, Michael Winterbottom and David Mackenzie, who had each been linked.
Unfortunately, it's been stuck in cinematic purgatory for some time now, after Matthew Cullen pulled the film from the 2015 Toronto International Film Festival and began to sue its producers, accusing them of fraud and for promoting an edit of the film he didn't support.
Your Daily Blend of Entertainment News
Your Daily Blend of Entertainment News
Thank you for signing up to CinemaBlend. You will receive a verification email shortly.
There was a problem. Please refresh the page and try again.