The National Film Registry Is Getting To Movies From My Childhood And It's A Super Weird Feeling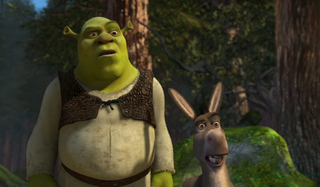 The National Film Registry is a program enacted in 1988 that "works to ensure the survival, conservation and increased public availability of America''s film heritage." Each year the National Film Registration Board selects 25 films that are deemed "culturally, historically or aesthetically significant." If selected by the board, the films are marked for preservation by the Library of Congress. Basically, if the government appointed board decides that a film has had a large enough impact on American film it's going to be inducted into the Library of Congress. That's kind of a big deal, considering there are only 800 entries from over 100 years of filmmaking. The registry includes film juggernauts such as Citizen Kane, The Wizard of Oz and as of today, Shrek.
That's right, 2001's Shrek, starring the mud-slinging, slug-eating ogre played by Mike Myers, is now considered culturally, historically or aesthetically significant. To me, that's absolutely bonkers. When I think of the prestige associated with The National Film Registry films such as Casablanca or The Godfather come to mind. But now there's a film with fart jokes to the tune of Smash Mouth's All Star preserved by the Library of Congress? Honestly, I don't know how to feel. A part of me is vindicated that the movies I grew up with are getting the love they deserve. Shrek is an absolute classic after all. On the other hand, it all feels a little weird.
Maybe I shouldn't be so surprised. Shrek is a cultural icon, after all. The film has spawned four direct sequels, with a planned fifth entry. There are also two television specials, the Puss In Boots spinoff and a Broadway musical. The DreamWorks franchise, like ogres and onions, has layers and is second highest-grossing animation franchise of all time. But still, we are talking about Shrek here.
Some quick math tells me that the average film in The National Film Registry was released in 1952. There's only 12 films released in the last 20 years on that list of 800. For Shrek to be included just blows my mind. I can't get over it. When it's safe to go to a party again I'm going to tell every single person this fun little fact. I can see it now, "Oh, you mean the culturally, historically or aesthetically significant Shrek, starring Mike Myers and Eddie Murphy, with hits from the Counting Crows, Smash Mouth and Dashboard Confessional?"
Putting my own bewilderment aside, it's nice to see the National Film Registration Board giving some love to recently released films. Christopher Nolan's The Dark Knight was also inducted this year. That comes as no surprise, considering many would agree it's one of the best superhero movies of all time, in addition to featuring Heath Ledger's Oscar-winning performance as The Joker. Here's the full list of 2020 inductees, with projects from film royalty such as Stanley Kubrick:
Now that more recent film fare seems to be on the menu for the board, I can only wonder what we will see inducted in the coming years. Breakout animation films, such as 2018's Spider-Man: Into the Spider-Verse seem like no-brainers at this point. But, if the board is handing out such a prestigious accolade to animated films from my childhood I'd like to be the first to nominate Disney's Hercules, which is undoubtably the best '90s animated Disney film, in my opinion. (Editor's Note: What?) Sorry, Lion King folks.
Is there a movie from your childhood that you think deserves to be inducted in the The National Film Registry? Maybe we will see some inducted next year. In the meantime stay tuned on the latest movie and entertainment news here at CinemaBlend.
Your Daily Blend of Entertainment News
Into tracksuits by Paulie Walnuts, the Criterion Channel and Robert Eggers.
Your Daily Blend of Entertainment News
Thank you for signing up to CinemaBlend. You will receive a verification email shortly.
There was a problem. Please refresh the page and try again.