Charlize Theron Responds To Those Die Hard Reboot Rumors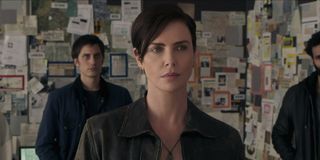 The holidays are a time to reflect and spend quality time with loved ones but, for movie lovers, it's also a time to kick back and rewatch some amazing movies set to the holiday season. Die Hard is probably one of the first that comes to mind, as many are nostalgic for the Bruce Willis classic, though some may or may not consider it to be a Christmas movie. Nevertheless, some fans on social media have recently been asking for a reboot, and they've been linking Charlize Theron to the role. Now, the actress has now responded to those sentiments.
Just recently, fans were imagining what it would be like if Charlize Theron were to take the place of Bruce Willis' John McClane and play a new hero who seeks to save her wife when she's taken hostage over the holidays. Some have even fancasted Aisha Tyler as Theron's spouse.
When Charlize Theron finally caught wind of what fans are hoping to see, she couldn't help but provide the perfect response on Twitter. Check out her post below:
So it would seem that Theron is more than ready to follow in the glass-scarred footsteps of John McClane. Not only that, but Aisha Tyler also provided a response to Theron's post:
So… is there any chance that Hollywood can actually make this a reality? Charlize Theron has been a consistent action star for years now and is more than capable of taking on the lead in a proper Die Hard remake or a film with a similar premise. Such a film would further solidify her position as a top-tier, blockbuster star.
In the last few years alone, Theron has given us several gritty performances in films like Atomic Blonde. The 2017 film, which saw the actress play a spy hunting down double agents in 1989, really connected with audiences, and we're currently awaiting confirmation of a sequel. And earlier this year, Theron starred in Netflix's The Old Guard, a superhero tale that focuses on a group of immortals seeking to recruit a newly discovered member of their kind.
On top of Theron's skills in the action genre, it would also be cool to see her act opposite Aisha Tyler. Both actresses know how to convey humor and emotion, and watching the two of them play off each other would be a real treat.
There are a lot of movie lovers who would likely be opposed to the idea of Die Hard being remade, and you can't blame them. The iconic film is a cinematic staple that still finds its way into modern pop culture. It's also a movie that many associate with Bruce Willis, so the thought of someone else making their way through the halls and vents of Nakatomi Plaza would be a bit jarring.
Still, one can't help but imagine how cool a Die Hard-esque movie with Charlize Theron could be. There's no telling if it will actually come to fruition, but we can dream, right?
Covering superheroes, sci-fi, comedy, and almost anything else in film and TV. I eat more pizza than the Teenage Mutant Ninja Turtles.
Your Daily Blend of Entertainment News
Thank you for signing up to CinemaBlend. You will receive a verification email shortly.
There was a problem. Please refresh the page and try again.